Mario and Luigi Costume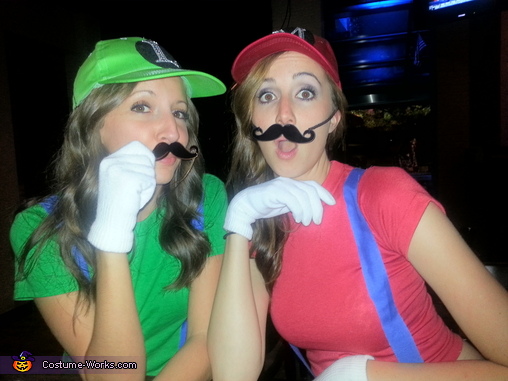 Mario and Luigi
More views:
(click to enlarge)
A word from Hanna, the 'Mario and Luigi' costume creator:
My friend and I decided to dress up in cute and simple Mario and Luigi costumes. The total cost was about $30.00. We bought children's red and green shirts ($4.00), hats ($4.00), black fleece fabric ($1.00) and decal a M and L from Hobby Lobby. We could not find a green hat so we used forest green fabric dye ($3.00). We purchased 2 yards of blue cotton fabric ($5.00)and white gloves ($2.50) from Walmart to make our suspenders and the Mario skirt. We also purchased big yellow buttons ($1.50 each) from Joanne Fabric. We purchased mustache necklaces ($12.00) from a local store, but they are available at Clair's as well!

After dying the green hat and letting it dry we cut out circles from the black fleece and hot glued them to the front of the hats and then stuck the M and L decals on the circles. We cut out strips of fabric for the suspenders and pinned them to Luigis blue shorts. We wrapped the remaining fabric and pinned it to make a quick and easy skirt. After pinning the suspenders to the skirt we hot glued the yellow buttons onto the suspenders. The total time to make these costumes was about 30 min!