Maleficent Costume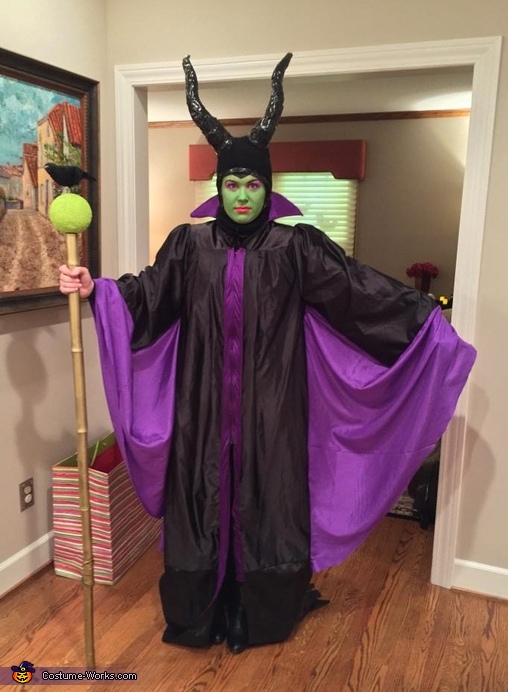 Maleficient
A word from Holly, the 'Maleficent' costume creator:
I decided on Maleficient because my niece and I wanted to do something Disney Themed together. We wanted to do a play on good versus evil so she was Aurora from Sleeping Beauty and I was Maleficient.

The main part of my costume was constructed from a black graduation cape and purple fabric. The fabric was sewn alongside the zipper to give the illusion of a purple strip in the middle. For the sleeves I cut the fabric at an angle and sewed it from the inside of the graduation cape sleeves along side the side of the graduation cape.

The horns were made from a black ski mask, two plastic cups, picture hanging wire, a headband, aluminum foil, and duct tape. I attached the cups to the headband and cut holes in the ski mask for them to fit through. I then attached a loop of wire to each cup and started putting aluminum foil around the wire until I reached the desired look of my horns. I then covered with duct tape.

For my staff I used a decoration bamboo stick and spray painted it gold. I attached a styrofoam ball and painted it bright yellow to give the illusion it was glowing.

The costume in all only cost around $20 and it took about a week to construct!