Magic Act Gone Bad Costume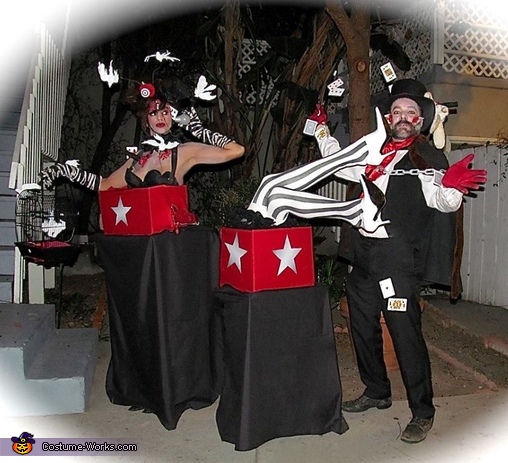 A Very Bad Magic Act
More views:
(click to enlarge)
A word from Kim, the 'Magic Act Gone Bad' costume creator:
I am obsessed with Vaudeville and Halloween! SO kind of combine both! We are a very bad old timey magic act. SO much fun to make and do. I have a magic light bulb that lights up in my ear! Hard to see but I have knives that miss the target apple-going through me and coming out the back, I forget to get back pics!! I did all the wounds with glue gun and paints. SO many people said it looked so realistic. And it looked so great! We have doves on wire, playing cards impaling our very bad magician. And real saw going through my magic box ( have the arm scratches to prove it, ouch) that I made, put together mannequin legs that were found in garbage (my fav go to for quirky goodies) he kind of missed that trick, ha! We walked all over West Hollywood and the Sunset Strip like this, always in magic mode. The public went nuts, and winning the costume contest (and that is a feat in the land of make believe! so we are proud of that!) If you can woo Los Angeles, it is a crafty job well done, I say, lol.
I make all our costumes, and have a ball doing it!!! This is one of my favorites, quirky, walking art installation and op illusion with tid bits of horror! Everything we adore! I hope you enjoy it as much as we did!