Mad Hatter Costume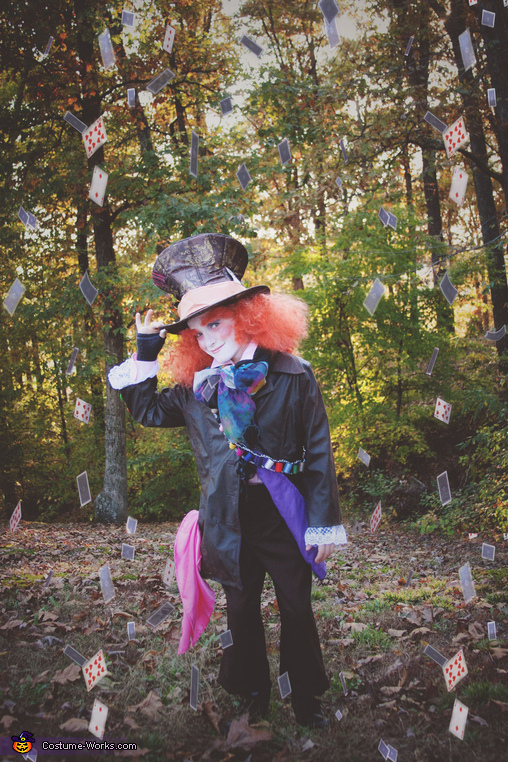 Mad Hatter falling cards
More views:
(click to enlarge)
A word from Kim, the 'Mad Hatter' costume creator:
Nate Pennington, my 11 year old son is the Mad Hatter. The idea of becoming the Mad Hatter for Halloween this year originated from a family vacation over fall break to Disney World. It was our first time going and my sister, Nate, and I were searching the hat store for decorative "ears" to wear that day when we came across the Mad Hatters hat. My sister and I looked at each other then at Nate and said how awesome it would be for him to be the Mad Hatter, Johnny Depp version, for Halloween this year!! I pulled out my phone, showed Nate pictures and he immediately agreed!!!

Items Used:
• Mad Hatter Hat with Wig
• Mad Hatter Eyebrows (purchased online)
• Cream Makeup
• Blush
• Lipstick
• Eye shadow
• Mascara
• Powder
• Pink Dress Shirt (Nates Personal Shirt)
• Scarf (Mine from home)
• Women's Distressed Leather Jacket (Goodwill purchase)
• Button up Suit Vest (Nates Personal Suit Vest)
• Lace (Left over at the house)
• winter gloves (Nates Personal Pair)
• Sewing Thimble (Mine from the house)
• Buttons (Extras found at home)
• Boys Pinstriped Dress Pants (Goodwill purchase)
• Strip Socks (My personal pair)
• Shoes (Nates Personal Pair)
• Thread Spool Bandolier (purchased online)
• Scrap Pink and Purple Fabric (purchased from scrap pile of craft store)

To make Nate's costume my grandmother and I did a lot of sewing and alterations. For his pants we took up the waist to fit him, they were a size to big, then hemmed the bottom to make them shorter then normal to show off his stripped socks The jacket took more work as it was a woman's jacket needing to fit an 11 year old. Therefore, my grandmother took it in, in the back and hemmed the sleeves. Next, she placed the lace along the sleeves and took the scrap purple fabric and sewed it into the lining of the jacket. After that she sewed the colored buttons on the sleeves and tacked the pink fabric to hang from the pocket. I took his winter gloves and cut the finger/thumb tips off to make gloves similar to those the Mad Hatter wears. After that it was all about piecing the items together like the Mad Hatter did in the movie.