Mad Hatter's Daughter Costume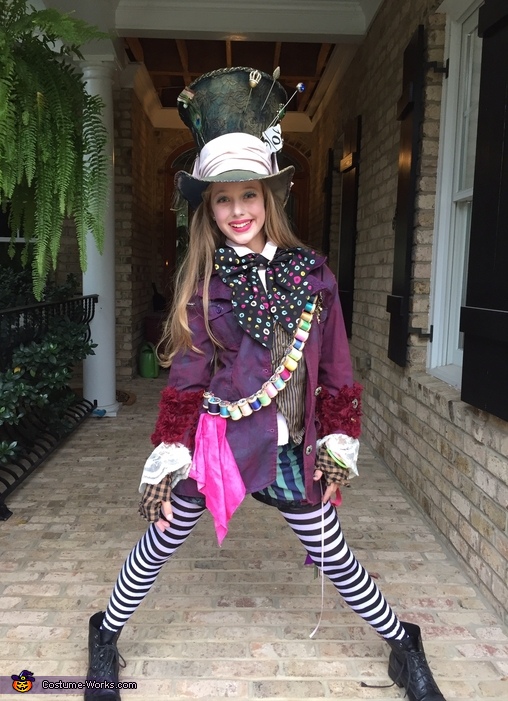 A very merry un-birthday
More views:
(click to enlarge)
A word from Jody, the 'Mad Hatter's Daughter' costume creator:
My daughter, Georgia, is wearing this costume. She came to me in early October with the idea to be the Mad Hatter, "Like Johnny Depp, mom." We googled photos and away we went! The greatest achievement was our hat. We used a You Tube tutorial from Threadbanger.com. There were quite a few snarky moments between the two of us during the process but the end result was worth every huffy exchange. The base is poster board with a foam core top. It is covered in a dark green fabric with black lace over that. The brim is fabric stretched tightly over a coat wire circle then sewed in place. That was glued to the fabric covered poster board. We spray painted the hat with gold paint and gold thread was sewn around the top edge of the hat. A piece of ribbon was also sewn to the top edge. We cut up an old, pink pillow case to make the huge bow and hot glued that to the hat. The hat pins are all made from flower stakes that were spray painted gold. We glued large pendants to them to closely follow the movie hat pins. Georgia added the peacock feathers and 10/6 sign (singed for effect).
All the clothing (except the tights) came from Goodwill and was repurposed. A child's large raincoat was cut down, taken in, dyed green, spray painted with black, purple and green for texture and dyed burgundy. We sewed lace to the collar and lapels before being dyed for added texture. Accent trim was sewn on the cuffs and lace ruffs were added. "Buttons" were crafted from "sale" jewelry findings that were hot glued in place: two in front, two on each cuff and three on the back vent. A piece of hot pink fabric was sewn into the lower pocket on one side and lengths of ribbon were pinned to the opposite pocket. We also added a length of chain with "sewing" themed charms to the breast pocket. All were on hand and painted gold.
A pair of khaki pants were cut off to make shorts, dyed green, then masking tape was used to create pinstripes with purple spray paint. The idea for the pin striping came from Threadbanger.com. We added black lace to the bottom of the shorts. Georgia created her fingerless gloves from thrift store fabric. We cut down a women's pink button down to fit her and fashioned a vest from a pinstriped blouse. We glued beads to vest front for buttons. The bow tie was made from fabric found at a fabric store that closely mimicked the pattern on Depp's tie. The thread bandolier was made from wood spools of thread (all from my grandmother's sewing kit) that were wired together and attached to two lengths of chain. The top end was pinned under the lapel of the jacket and the other snapped at the waist. Georgia did her own makeup which she toned down. "I'm not yet as mad as a hatter, mom. I'm his devoted daughter."!