Luke Skywalker riding a Tauntaun Costume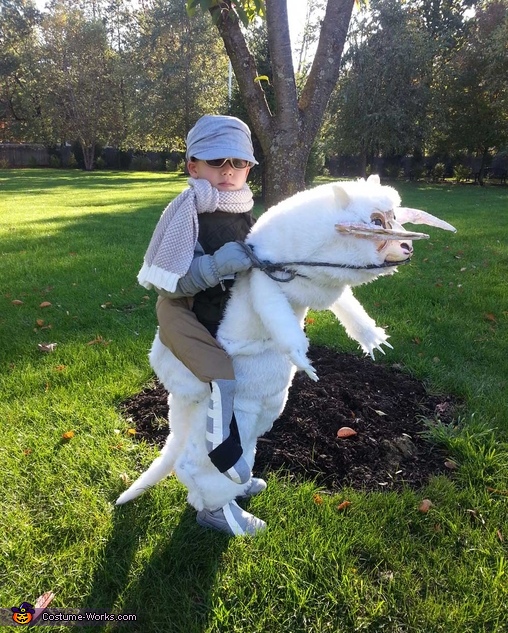 Anthony as Luke Skywalker riding his tauntaun
More views:
(click to enlarge)
A word from Maria, the 'Luke Skywalker riding a Tauntaun' costume creator:
My sons and I love Star Wars. Anthony laughs and laughs when Han Solo says "And I thought they smelled bad on the outside" Anything GROSS is funny to my 7 year old.
He asked me if he could be Luke Skywalker from Hoth for Halloween in Dec 2013. I've seen half man half animal costumes so I figured I would just try to see if I could make him Tauntaun to ride.
I bought an goat mask and painted it to look more like a Tauntaun. I bought white fur material and a bolt of batting at the local fabric store.
I bought pants a few sizes bigger than what my son wears, used duck tap to put the batting on the pants, then glue guns the white fur over it. I rolled batting to make the neck and glued white fur over it. I rolled newspaper to make the horns and nails, then covered it with painters tape and sprayed painted them. I used rope for the harness and for my son to hold up the tauntaun. The saddle is an old black t-shirt cut up. And the legs on the tauntaun are my younger son's pants stuffed with batting, I used gray socks with tape to make the boots.
I kept my eye out all year for cloths for Luke to wear. I found the jacket at The Childrens Place, pants at Target, the gloves and boots at a 2nd hand store. I sprayed the booths and gloves to be the same color and painted white lines on the boots to look like Luke's.
I had to get suspenders to help the costume stay u because it got heavy.
I posted pictures on my artist page on fb as I made it. You can see more photos there.
https://www.facebook.com/heartnsoulstudios
I even used old stockings to make fake guts which started this whole thing!
My son was a big hit every where we went this year.