Lucy at the Chocolate Factory Costume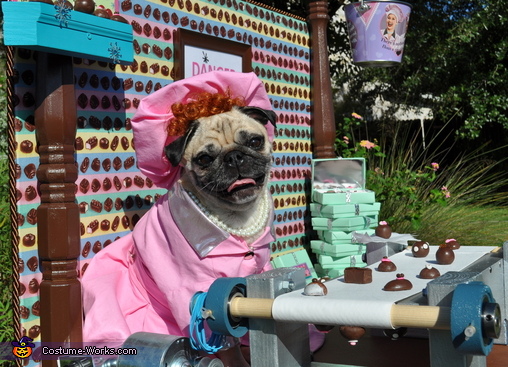 Lucy, you've got some 'splaining to do!
A word from Janet, the 'Lucy at the Chocolate Factory' costume creator:
Kiwi, our 8 year old Pug, is channeling Lucille Ball in the classic episode at the Chocolate Factory. I dress as Ethel (not pictured). The idea -- well, who doesn't love Lucy? The sewing part was easy -- constructing a working conveyor belt, not so much!! Really lots of trial and error -- five motors (progressively larger), different types of batteries and combinations thereabouts and finally an engineering friend's suggestion of a rheostat -- to slow the motor -- driving rubber bands turning dowels, covered with vinyl belt, inserted into flanges with ball bearings, on a 2X4 frame! Fake chocolate made out of no-bake, non-toxic clay covered wooden balls glued to the vinyl. Lots of work, but oh so satisfying to sit back and watch it all work. Oh, and a boom box hidden below which blares the I Love Lucy theme song. What fun!
Kiwi as Lucy at the chocolate factory video: