Lollipop Guild Munchkin Costume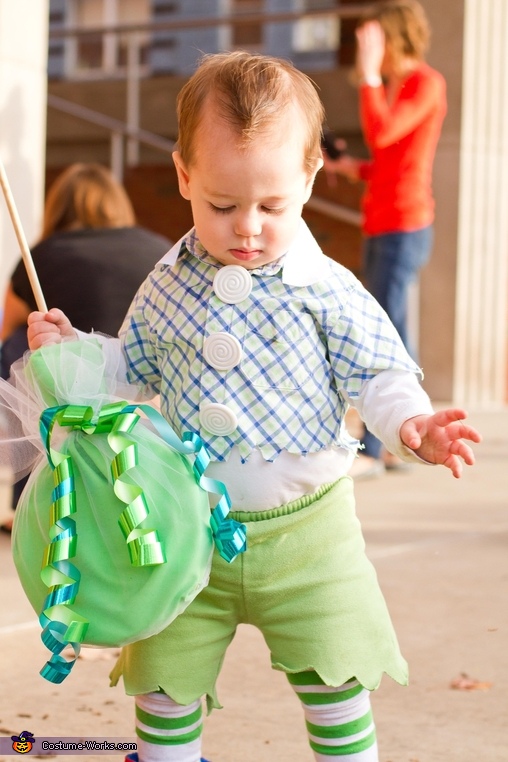 Completed Costume!
More views:
(click to enlarge)
A word from Kalyn, the 'Lollipop Guild Munchkin' costume creator:
I'm really not quite sure where the idea came from. It was a culmination of wanting to try an oompaloompa but that being a little too ambitious, and from there, I started thinking of all the little people from my favorite childhood films and books. It was from there, I landed on "Munchkin" or... "Lollipop Guild" member from the Wizard of Oz.

The costume was quite simple, and I spent all of $10 and maybe 30 minutes collectively assembling the pieces.

It consisted of
1) a plaid shirt and green pants (white long sleeve under for warmth) (later cut up into munchkin style clothing) from Rhea Lana's Consignment Sale that I acquired on half-price sale day for $1.50 each.
2) Green and white striped baby legs that came with a Seven Sling that I received for free
3) White clothing patches (iron on) from Hobby Lobby for $1.50 that I ironed on for the collar
4) Big white buttons $1.00 sewn on for character
5) Styrofoam disc on a dow rod with fabric wrapped ($5.00) and tied with ribbons (we already had the ribbon)

In the end, it turned out like this!