Locutus of Borg Costume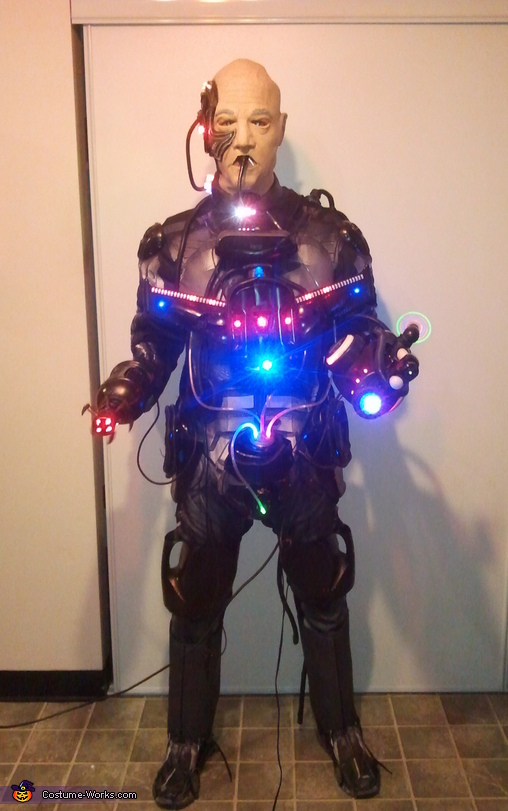 85% complete. Front view. This was before I added the 2 foot Blue LED light strips to the boots.
More views:
(click to enlarge)
A word from Kenny, the 'Locutus of Borg' costume creator:
Hello,
My name is Kenny Broyles, and I've always been a huge fan of technology! I've always been good with wires (I have thousands of random wires I've collected throughout the years) My other talents consists of soldering, modifying components, computers, and game systems, operating systems etc.
Star Trek The Next Generation movie series had a race of cybernetic organisms call Borg. They assimilate other species of humans or other aliens into their collective to make them like the rest of Borg. They refer to themselves as "WE" instead of "I".

I've always been a huge fan, and I wanted to create a similar idea of how they look in the movies, but modify it to my own design, and ideas.
I spent over 300 hours on this bad boy and worked very consistently to finish before the Halloween 2012! I have hot glue burns, solder burns, razor cuts, drill bit cuts, and super glue still on my fingers, haha, It can get brutal, but I'm pretty happy with how it turned out!
One of my favorite features of the costume is that It has a built in drink holster in the crotch area with a straw that comes up through the mask so I can enjoy a cocktail with hands free! I also made a little door hatch that allows you to go to the bathroom instead of taking the whole costume off!
Here are a couple YouTube video of how the costume was created, and showing off the robotics in the chest, and the rotating claw. I'll have to make another video to show the true final product. I've made many improvements since these videos.
Check them out:
Center Core with built in Android
Center Borg logo on Android
Motorized Robot Spider Claw
Close to Final (Show off ROBOTICS)
Overall I've spend around $800
Items purchased (Mostly from Ebay):
Locutus mask with added LED's, Robotics, Power sources (3 POWER BANKS with 36,000 mAh of POWER!! That's the size of about 20 smartphone batteries!!!!) 9 Volt, AA, AAA, watch batteries, Real Plasma cylinders that attract to your finger and has, Voice changer with 15 different voices, Sound amplifier and speaker, Gun that has 12 different shooting patterns sci-fi gun sound effects that is sent to main loudspeaker for dual amplified sound, USB Cables I hacked into for power, many +- wires, tons of hot glue, solder iron and solder, super glue, nuts and bolts, hundreds of LED lights, and went through a lot of scissors, and box cutters to carve parts from plastic containers such as V8 juice bottles, Tropicana orange juice bottles, laundry detergent bottles, push lights, about $50 worth of black PVC wire conduit tubing, Clear Air Line Tubing, ETC.
Anyways....I hope you enjoyed the videos, and pictures!
P.S. I have more photos that a professional took while I was at a costume party when the costume was finalized (Minus the issues getting the straw tubes to light up on the top of the drinking container.) . I'm still waiting to find out where I can find those pictures!!!