Lively Tree Costume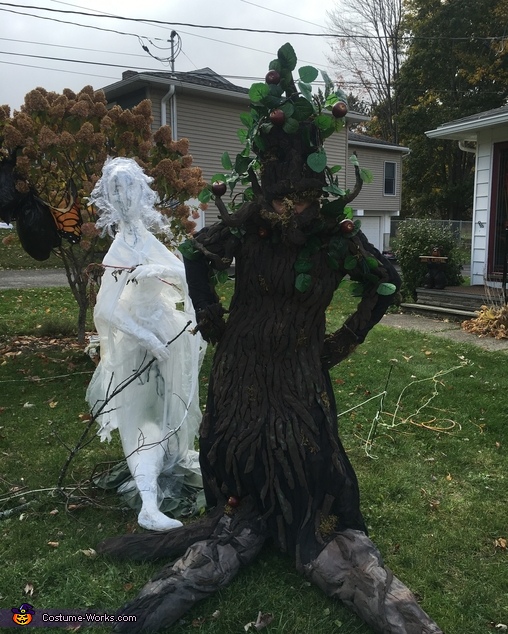 Lively Tree
More views:
(click to enlarge)
A word from Linda, the 'Lively Tree' costume creator:
The lively tree costume I am created and am wearing in theses photos came out of my love of crafting, nature and need for a costume that was low cost as well as an unexpected character choice. The crew of great individuals with disabilities that I supervise picked "The Wizard of Oz" as the theme for our work Halloween party. We alll agreed to surprize each other at the party with our costume choice. A quick trip to the Goodwill yeilded a $7.00 long jersey knit dress for a base for whatever my character would be for 2016. the dress was a long sleeved turle necked black dress. I figured great outfits starts with a simple black dress. Once home, I sat down down with a cup of coffeee and was looking out my window pondering options when I saaw our tiny new apple tree. Ta Da! Then the tree costume grew on me so to speak.
I looked up tree costumes of the internet and saw all types of paper mache, cardboard, fabric painted on and on and on. Them I saw the Groot tree that wowed me. The tree was made by applying foam to the outside. I would use my leaftover cushion foam from one of my scrap supplies, hot glue and paint it with paint left by a former owner of the house we moved into last year. Many fun but long hours later a tree was showed up to smiles and cheers at our party! Materials used were mostly...
A dress, Old green foam cushion foam, hot glue, an electric knife to slice foam strips with before shaping with scissors,
hot glue and glue gun to glue pieces of foam onto dress, an old pair of black pants cut and glued to dress for root shapes than filled with pillow fill, greenery and fake apples bought at craft store and leftover house paint plus a drop cloth and lots of patience watching glue dry. As a final step I added some moss to tie in the gree that might show through the quick paint job. I had fun and made smiles. The local cider store loved the xostume when I stopped for party supplies. It tool linger than a click of my heels but was great fun.

line dress with plastic on inside so glue and paint won't stick.