The Little Train Costume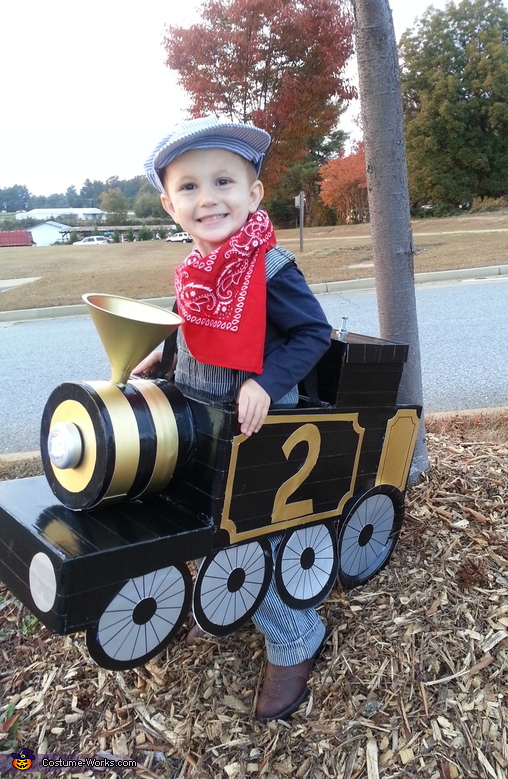 Jackson's first time trying his costume out!
More views:
(click to enlarge)
A word from Allicia, the 'Little Halloween Train' costume creator:
My son Jackson was born loving trains! I've never seen a kid so infatuated with one thing in my life! He even talks about them when he's dreaming at night by saying "All aboard!" or "Daddy, you want to come pway (Jackson's version of play) trains with me?" When the question was asked about what he wanted to be this year for Halloween, he answered with no hesitation " a Halloween Train Mommy!" So after researching and finding No train costumes I realized I was on my own. So we started creating. I went onto some diy websites where I saw lots of Thomas the train versions and came upon a few that were other kinds of trains. So I combined several and created my own.   First I gathered up several boxes. I used a xerox box as the main part of the engine and cut an opening in it big enough for Jackson to fit inside. I then measured and cut the lid of the xerox box into and glued it to thefront of the train and the second half to the back. I used black duct tape and taped off the entire box to add more durability and to make it somewhat waterproof. For the very back I used a shoe box that fit the width of the train and also duct taped it leaving the lid where we could easily open and close to put his candy in. Which we later realized it got a little heavy and we emptied it out from time to time.  I then used two hat boxes and hot glued them together and duct taped them. After trying to hot glue, gorilla glue, and then krazy glue this piece I finally swallowed my pride and asked my husband to help by using some handy tool work and he ended up putting a screw into it to hold it securely in place.  So after that it wasn't going anywhere!  I put a hole in the hat boxes and inserted a plastic funnel that I had previously painted ( it fell out after the first go around at a fall festival, so I extra gorilla glued it for Halloween night!) I used black paper plates and silver and gold poster board for the accents and wheels. I added a light to the front that all the other kids thought was the greatest thing ever and it helped with seeing where my little "Halloween train" was going! I also measured nylon straps for Jackson and glued them inside to make it easier for him to hold it. I dressed my little guy up in an engineer outfit and he took along a wooden train whistle. My husband and I also dressed up as his train signs! We had an extra great time seeing Jackson light up from all the attention he got from other people! Especially all of the high school girls at the fall festival! I believe he has a good secret to getting all the ladies, just make your own halloween train! This project was very time consuming but extremely fun to put together!