Little Red Riding Hood & the Big Bad Wolf Costume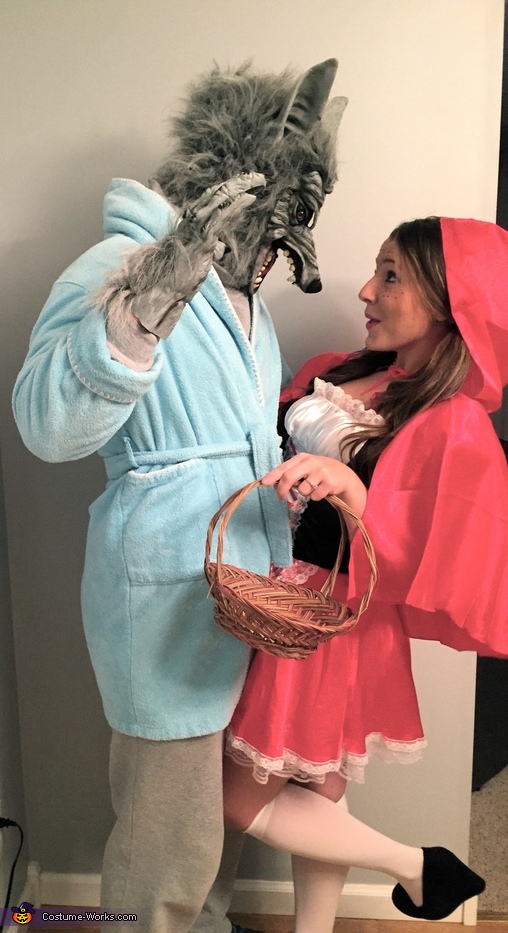 'Oh my grandma! What big ears you have.'
A word from Nicole, the 'Little Red Riding Hood & the Big Bad Wolf' costume creator:
The story of Little Red Riding Hood is about a young innocent little girl who is on her way to take cakes to her grandmother. On her way she encounters a big bad wolf who thinks that the young girl will be a tasteful snack. By the end of the story the young girl reaches her grandmother's house, but when looking at her grandmother she says "My what big ears you have grandmother!" "What big teeth you have grandmother!"
The story behind the costume is many people do not remember Little Red Riding Hood, most people try and do the latest movie or show that is out. When I was young Little Red Riding Hood was one of my favorite stories. This year my boyfriend (the bad wolf) and me (little red riding hood) created this costume. The only thing that was store bought was the dress and the wolf mask and hands. Everything else was homemade. My boyfriend used my robe, and wore gray pants and shoes to match the color of his mask. I wore my hair in pig tails, I drew freckles on my face, I wore high knee highs and black shoes. This created an innocent, but cute Red Riding Hood. As a finishing touch we added the basket and in the picture we have the wolf leaning to bite the young girl.