Little Red and the Not-So-Big-Bad Wolf Costume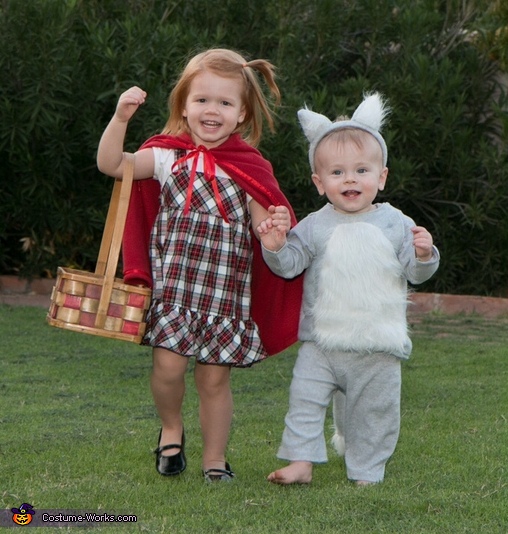 Little Red and the Not-So-Big-Bad Wolf
A word from Emily, the 'Little Red and the Not-So-Big-Bad Wolf' costume creator:
My daughter (2) is dressed as Little Red Riding Hood and her little brother (1) is the Not-So-Big-Bad wolf. I wanted to have coordinating sibling costumes, and this idea was inspired by my husband calling our daughter 'Little Red' before she was even born, hoping she would have red hair...and she does!
I made the Red Hood out red of fleece and lined it wîth a satin ribbon. I found her dress, shoes, and basket at a thrift store. Total cost for costume was less than $15.
The wolf costume consists of a vest I sewed out of gray fleece and added a white furry chest and tail. He is wearing a gray shirt and pants. I made the ears out of the fleece and white fur. Total cost was about $5.
Our Little Red and Wolf were very sweet walking together on Halloween.