Little Mermaid Ariel and Ursula Costume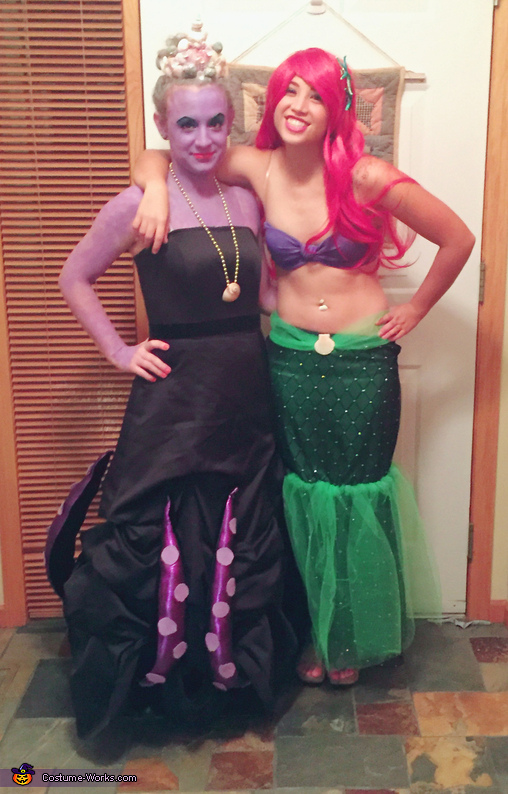 Little Mermaid Ariel and Ursula Costume
More views:
(click to enlarge)
A word from Chelsea, the 'Little Mermaid Ariel and Ursula' costume creator:
I am wearing the Ursula costume, and my best friend it Ariel. The idea came to us last year (we generate costume ideas every year). We enjoy costumes that require extravagant makeup and things that aren't quite human. We acquired the black dress from a good will store, and made the tentacles by sewing black felt and regular purple fabric together, stuffing them and then attaching them via sewing to the dress. The crown was made by gluing shells to a plastic princess crown and sprinkling with glitter. The necklace was a glued shell and party beads.
Ariel's dress was a full gown that we converted to a skirt. We added the brighter green fabric to give the skirt a "fin" look on the bottom and across the top. The bra was a long strip of purple sewed to a nude colored bra. We also braided dark green fabric to look like seaweed which we hung from ariels hair. We also made earrings for Ariel using fishing line and lures.
The make up was theater makeup mixed with everyday make up (the eyeliner and lipstick were real). Overall the costumes cost us about $100 to make. The most fun part we have when we dress up is acting out the characters we dress up as, and it makes it more fun for the kids we walk around with!