Little Frontliners Costume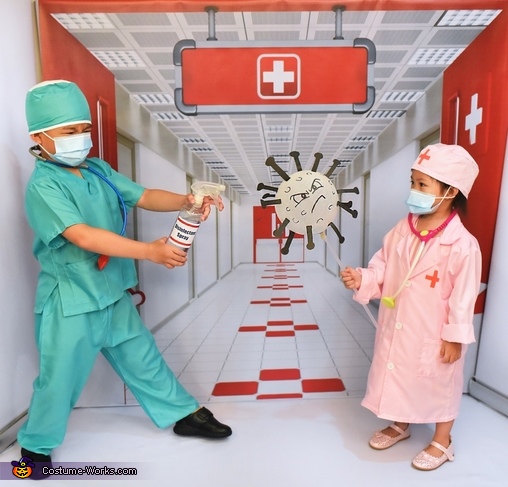 Killing the virus using disinfectant spray
More views:
(click to enlarge)
A word from Fritzie, the 'Little Frontliners' costume creator:
Our Halloween theme this 2020 is something we will never forget as this is a very tough year for all of us due to the pandemic. We remember and salute our frontliners for their dedication and compassion at this difficult time in our lives through our children's Halloween costumes and props.

Our children are dressed up as a doctors/frontliners wearing face masks. We included swab test and the virus in their props to particularly depict COVID theme for this year.

We printed our own tarpaulin backdrop and we also printed most of the other props (posters, soap, etc.) on sticker and then mounted on sintra board. The other props are either existing toys of our kids (doctor toy set) or available items at our home (disinfectant, infrared thermometer). We made our DIY virus by recycling the balloons that were used during my daughter's birthday a week ago, then just drew the virus face and pasted black strips on the balloon's surface. The oversized cotton swab was made from scrap material (sintra board) and foam paper that were also recycled.

Some of the poses depict simple ways of fighting off the virus that the kids can easily understand (wearing masks, proper handwashing, using disinfectant to kill the virus, using a symbolic "shield" to protect and guard ourselves from the virus, etc.)

And finally, we have a simple poster printed to thank all the frontliners out there who are our true modern day heroes in this time of pandemic.

Together, let's continue to fight COVID.
Stay safe everyone!