Light Up Jelly Fish Costume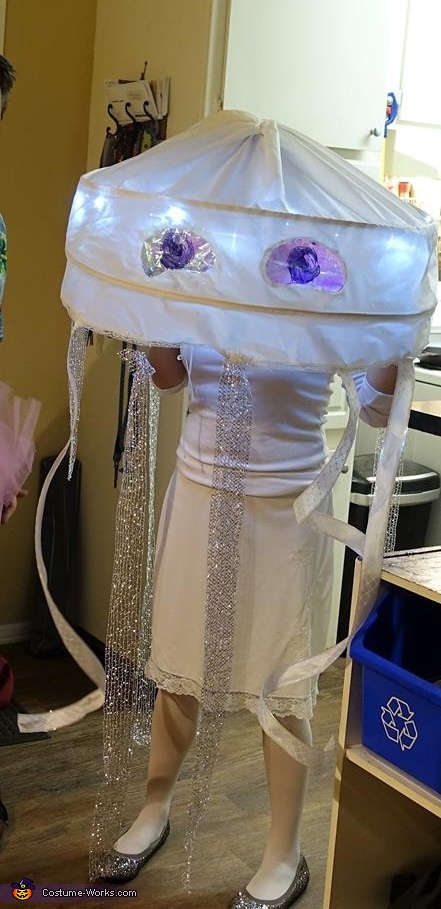 Cute, Light Up, Jelly Fish
More views:
(click to enlarge)
A word from Hanna, the 'Light Up Jelly Fish' costume creator:
I am wearing this costume. I wanted it to be hands free, light up, and have the ability to see where I am going.

I took a hoop skirt from a thrift store, turned it inside out and zip tied it closed.
with bulk of excess material now, i fashioned two hanging straps using more zip ties zip ( almost like a pony tale like structure, 2 of them) those were used as secure straps to wrap from the top of my head, down my ears, and tie under my chin.

Lights: The dollar store has battery operated string lights. i bought two. You can use safety pins, but i sewed white thread here and there to keep them up around the hoop.

Eyes: The eyes are cartoon looking for a Kauai effect of cute. The are filled in with a saran warp like craft rainbow paper, and hot glue, and then sharpie for the black eyeballs. ( note, this makes it like windows so you can see faces and not just peoples hips. eyes make this batter to see)

This costume is easy to travel with because the hoops fold up into luggage. its light weight so you wont feel it on your head. and easy to remove so other people can wear it.