Leonardo Ninja Turtle Costume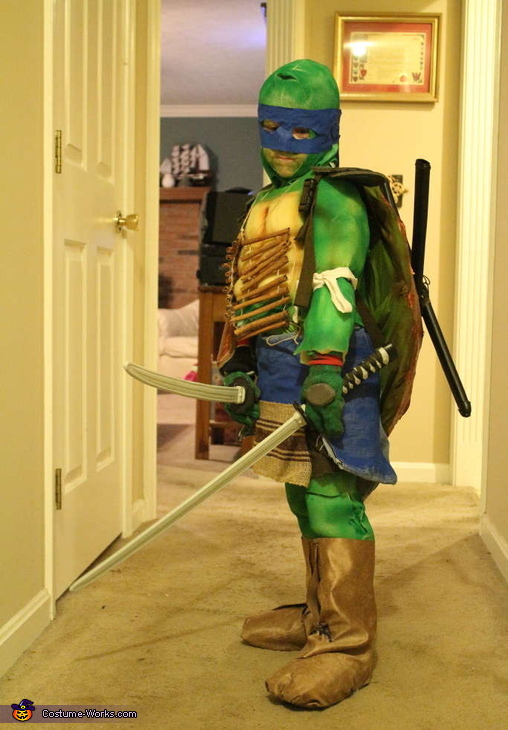 Leonardo Ninja Turtle
More views:
(click to enlarge)
A word from Chad, the 'Leonardo Ninja Turtle' costume creator:
This Costume is for my 5 year old Son. He loves Ninja Turtles and he wanted to be that. We were going to do the cartoon turtle until he saw the preview for the new Movie and he wanted to be that.

I started by researching how i wanted to make it but there was not much reference only a couple of pics.

We then Constructed a Duct Tape Dummy and then put pajamas on top of that as a base layer. This was accomplished by wrapping him in Duct tape over a pair of Pajamas, cutting him out of the wrapped tape and then making a skeleton out of PVC Pipe and stuffing with old newspaper. This gave us a Dress Form type dummy to build the costume on close to his size.

On top of the Pajamas we sculpted the muscles using 1 Inch upholstery foam and glued them on using rubber cement and spray adhesive. We then covered the entire outfit with a 1/8 inch upholstery foam for a skin and sealed with spray glue and a layer of liquid latex to help seal.

For the shell I tried multiple things but finally we had a platter that was the size of the base of the shell and i made a rough skeleton using Anti Fatigue foam floor Mat and then covered in duct tape. I then took 5 mil fun foam from Hobby Lobby and cut the pattern for the turtle shell out and glued it over the frame. On top of that i put a layer of StyroSpray 1000 which is a form of liquid plastic to give it a hard shell. We used a couple of buckles and Nylon to make it to slip on like a backpack

For the head we had originally planned to have it sculpted and poured in Latex but my Wife went into the hospital the week before Halloween. She has Multiple Sclerosis and has to go in and out of the Hospital at times and Both boys were really sick before that and when my wife got home i got sick. So I ran short on time. I also did not have any experience with Molding so i messed up the Mold and did not have a chance to start over. We got a painters sock from Lowes as a last ditch effort trimmed and painted it Green and painted the front of his face green. Honestly this worked better i think since he would have better visibility and does not like his face covered.

The hands were a pair of gloves with the fingers slit and taped together then covered in Latex and painted to give the 3 fingered look.

Painting:
I had never airbrushed and decided this was the best time to try. I picked up an inexpensive airbrush from the store and practiced. I painted everything but the front shell and shell green and then highlighted and put some detail in subsequent coats. I really enjoyed it. Cant wait to practice somemore and get better. For his Arm Tatoo we created a stencil by cutting out of cardstock and airbrushed it on.

Accessories:
Bandana: Just Sheet fabric trimmed and painted blue.
Shoulder Pads were Anti Fatigue foam, cut to shape and glued onto the shell strapping.
We wrapped his joints in stained cloth that were exposed without foam. We dyed the cloth with Tea to give it a darker stained color.
He has a pair of Cutoff brown Shorts which is covered by his Kilt like piece made from cutup jeans painted cut and sewed together and burlap added to the front for detail.
The boots are a wrap around the legs made from Leather at Hobby Lobby and the feet were cut from foam and glued to his shoes then covered in leather.
The swords i attached together with Cord and Glue then poked a hole in the shell and attached them together with Coat hanger wire.
His armguard is actually a shin guard painted Brown to approximate the movie.
His wood chest armor is cinnamon sticks glued to twine and tied around his neck and waist.

Materials Used:
Duct Tape, PVC Pipe and Newspaper to Make a Duct Tape Dummy.
Pair of Pajamas as a base layer.
1/2 inch upholstery foam for sculpted muscles
1/8 inch upholstery foam for skinning the costume.
Painters head sock for head.
Old Sheet for fabric strips.
Kids chin Guard found for wrist guard.
Anti Fatigue Floor matt for Shoulder, hand pads and part of undershell.
Kids Glove for hands.
Liquid Latex to coat costume before painting.
5 ml craft foam for Top of Shell.
Acrylic Paint Airbrushed on.
Face paint.
Buckles and straps to hold shell on.
Cinnamon Sticks
Twine
Coat Hanger
Leather

This has been a hard year on my Son with his mom being really sick in and out of the Hospital and If this made his Halloween extra special it was well worth it. After taking him out Trick or Treating he told me this was the most Epic Halloween ever. That is good enough for me. He's already making plans for what im making him next year!