Leif Eriksson the Viking Costume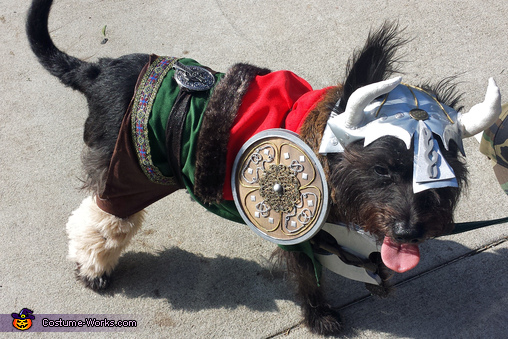 Murdock as Leif Erikkson the viking and walking in a Halloween pet parade in Long Beach, CA
More views:
(click to enlarge)
A word from Sara, the 'Leif Eriksson the Viking' costume creator:
I like to make costumes for our dog, Murdock, every year. This year he was Viking Leif Eriksson. The idea came from brainstorming with my husband and then polling our friends and family with our top choices. We like to create something unique and detailed.

I measured, pinned and sewed as Murdock modeled for the outfit over about the span of two weeks. The pants and green shirt are suede and the red cape is linen. Underneath, his shirt has elastic bands and a snap and the pants have an opening for bathroom needs, a snap and a wide elastic band that goes around his shoulders and pulled down by the snap on the pants. That keeps everything tight and from slipping down (which happened in past years). I sewed ribbon on the bottom of his shirt and fur trim on the cape for embellishment. I wrapped fur fabric around his pant legs and secured them with glue and leather ties. His belt is suede with a snap sewn on and two metal ornaments glued together. His shield is a Cool Whip lid painted and adorned with painted string, another metal ornament and other items. His battle axe is four pieces of soft foam glued together and painted tied with leather to a painted dowel. His helmet was a bit difficult and I made a few duct tape drafts beforehand. I secured it with a leather chin strap and decorated it with soft foam, painted string, buttons and more. His horns are suede with polyester stuffing. He also has a fur scarf and a metal necklace. Overall, it cost about $60 to make.

Tips: Would make sure to securely sew the horns on the slick silver fabric on the helmet, I was in a rush near the end and simply glued them on and both horns came off after a few head shakes by Murdock. And pin or secure the cape and shield better, they kept slipping off to the side. Also, I always try to make costume flexible and easy for him to walk around in and use the bathroom, so I would advise to keep that in mind as a priority.

Overall, I'm pretty happy with how it turned out. Murdock was a big hit at the parade and our vet's costume contest. He is a great model and, although he isnít too fond of the modeling part beforehand as I create the outfit, he loves all the attention he gets when he struts around in his costume. I think he looks great!