Lego Lady Costume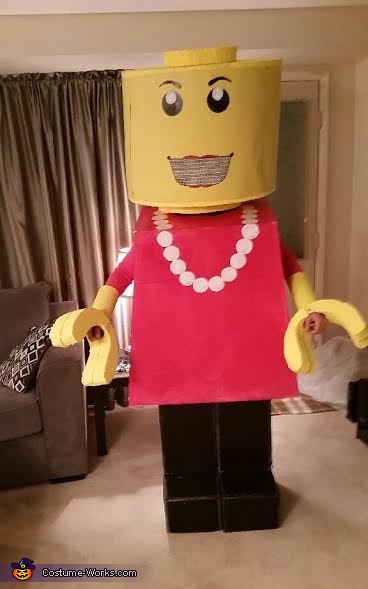 Trying on before going out
More views:
(click to enlarge)
A word from Heather, the 'Lego Lady' costume creator:
So I decided to try to top my costume from 2013 and I went with creating this Lego Lady for myself. I got the idea from SewWoodsy (awesome site!) and basically made my Lego figure to match my personality and artistic ability (which I don't have!). This costume was by far the hardest, most rewarding one I have made, taking approximately 35 hours to make (including shopping for materials). It wasn't easy, but I was determined to blow everyone away again this year and I did just that! It also helps that Halloween is my most favorite holiday of the year ;-)

The materials came from Pat Catan's and Home Depot and consisted of card board, Styrofoam, tape, paint, poster board, Velcro, hot glue, blood, sweat and tears.