Lego Batman and Lego Venom Costume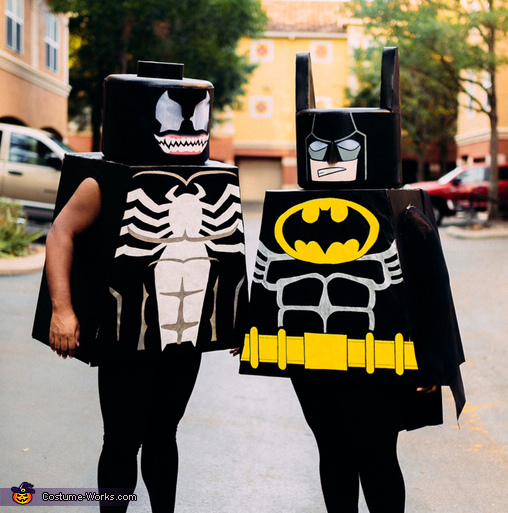 Lego Batman and Lego Venom
More views:
(click to enlarge)
A word from Ashley, the 'Lego Batman and Lego Venom' costume creator:
My sister and I are wearing these costumes. Halloween is very big in my family, as well as other holidays. Every year we have a different theme and some make costumes and some buy theirs. This years theme was heros and villains. At first I was just going to buy a generic hero costume but thought making them would be so much better and satisfying. While searching my DVD shelf for a good horror movie I saw my sisters Lego games there. That was all I the motivation I needed for Lego superhero and villain costumes.

I used plenty of items I already had at my home. The bodies are made of cardboard pieced together to be large enough for our bodies. After I taped and hot glued them together I drew on the basic details of the outfits. Once done I painted everything in a gloss finish paint to give it a shiny Lego look. I used two 12 inch floral wreaths for each head piece. I cut a measured some posterboard to wear I though our eyes should go and glued that around the floral wreaths. I then drew on faces and painted each head piece. For the eyes I used tulle material so we could see but also hide our eyes and faces. For batman I used some extra posterboard and made ears and a nose for a 3-d effect. For the cape I had some extra black fabric from a previous costume and just glued it to the body. The who process took about 2 weeks in between work and days off. These are by far my favorite project of the year, very satisfying to make your own costumes.