Lady Literature Costume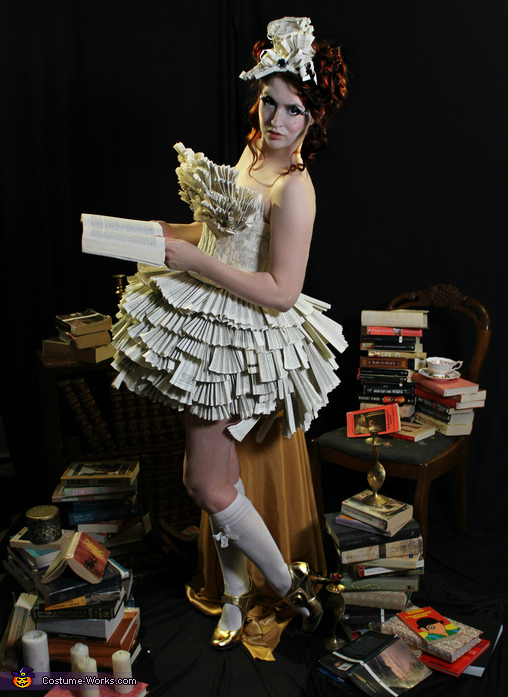 Lady Literature
More views:
(click to enlarge)
A word from Amelia, the 'Lady Literature' costume creator:
I found an old box of books beside a dumpster and decided to turn it into a project instead of letting it go to the landfill. The two main books I used for the project are Homer's Iliad and James Joyce's Portrait of the artist as a young man.

I started by taking a huge balloon and paper macheing half of it to create the large base for the skirt. I cut the centre out for the waist. Then I spent hours folding pieces of paper and hot gluing them to the paper mache base. I cut the back of the skirt and used a hole punch to create a corset back to the skirt so it would be easy to adjust.

The most challenging part was creating the corset top. I used paper mache for that as well and then again punched holes to create the adjustable corset back. I hot glued more pages to create the beautiful fan top. Let's just say, it might look nice, but it is not the most comfortable bodice!

Finally for the fascinator, I used a paper mache base and then built up around it using curled pages, pages made into of bows, and finally a little gem for some sparkle.

This costume took approximately 50 hours to make, but it was well worth it in the end. I emptied my book shelf, found some old furniture and candles, as well as cool props, to create a set for the shoot. I had so much fun filming the finished product. It was an amazing experience. I am never going to buy my halloween costume again. It's all DIYS from here.