Lady Loki Costume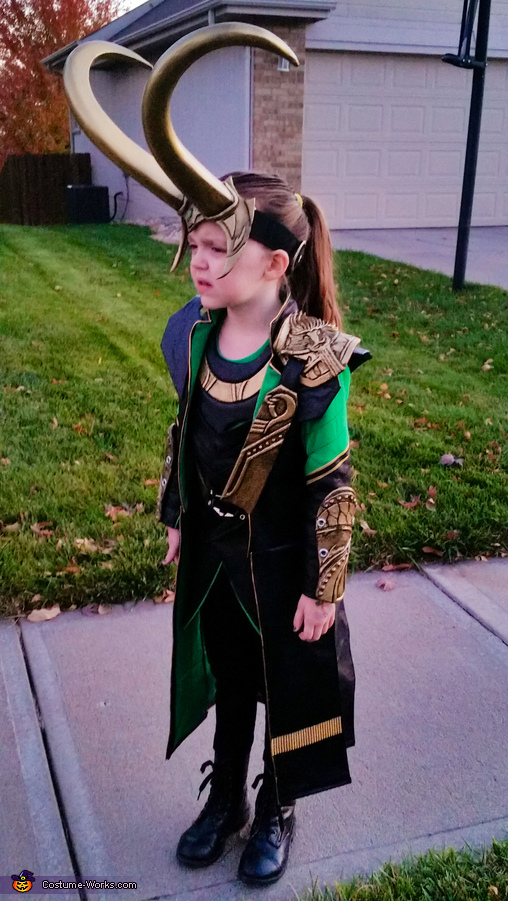 Lady Loki Costume
More views:
(click to enlarge)
A word from Shawn, the 'Lady Loki' costume creator:
Costume was made for my daughter, Lily, who was insistent on being Loki for Halloween. I decided early on that if we were going to do it, we were going to at least attempt to do it justice.

So, I did a ton of research on cosplay techniques and "best practices" and started working. the horns needed to be light weight - so I used insulation foam that I picked up from the hardware store and carved the horns out. We live in an apartment, and I don't have any super special tools, so it was definitely a chore to get the horns to be identical (but mirrored) copies of each other.

Once the horns were carved out, I started on the armor. Did a bit of research on wheat the armor was supposed to look like and set about measuring my daughter and drawing out the patterns. The armor base was all made from craft foam that was doubled up and superglued to give it depth in the places that needed it.

Once the pieces were all done in foam, I picked up a large sheet of Worbla (thermoplastic) from a local dealer and spent the next 2 days cutting patterns out, heating up the Worbla, and molding it around the craft foam bases I had made. After everything was covered, I used about 6 coats of wood glue over everything to smooth out the roughness, then 5 or 6 coats of gesso followed by a TON of sanding, then primer, then paint and detailing.

For the fabric bits of the costume: Again, did a ton of research to make sure what the thing was supposed to look like. I had a brand new leather coat that I accidentally ripped a few years back but couldn't bring myself to throw away - lucky us - it was perfect to repurpose for this costume. So, all of the black bits are actual leather. Since we live in a rather cold place, it was important for my daughter to be warm while wearing this thing - so all the green bits (and all the lining inside) are fleece and cotton so she stays nice and toasty. The trim is simply some gold cord that we found at the hobby store and glued around the edges.

For the gems, I used a quick dry resin that was colored with food coloring and poured into a candy mold. Worked perfectly!

All in all, I'd wager to say that there's somewhere between 80-100 hours of work in this thing... and overall cost is probably somewhere around $350 with everything added up... so needless to say, we'll be finding every excuse for her to wear the thing... I'd say it was totally worth it though, she was so happy. :) Cheers!