La Muerte Day of the Dead Costume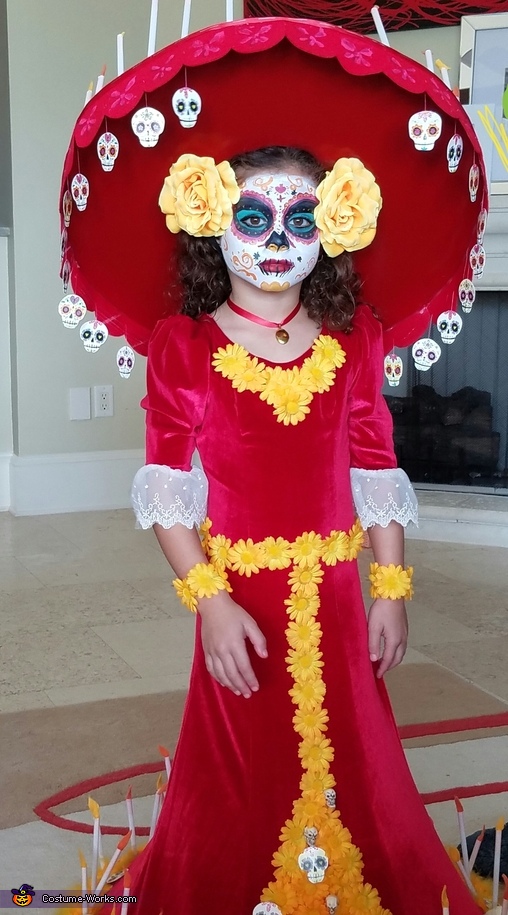 La Muerte Day of the Dead Costume
More views:
(click to enlarge)
A word from Barbara, the 'La Muerte Day of the Dead' costume creator:
La Muerte Costume for Halloween. The costume idea came from the movie "Book of Life." My 6-year old granddaughter loved the movie and insisted on this for halloween. The costume was not available to purchase, so I made it from scratch (hats and makeup ... compliments of my daughter). Got a lot of great ideas from the families of Pinterest!!
The dress: I started w/a medieval dress pattern (for sizing purposes)and reworked it accordingly. Dress fabric/flowers from Amazon (cheap); candles were drinking straws w/felt for flames (idea from pinterest); used a yellow boa at bottom of dress before I put on the flowers & other decorations (for me it gave the bottom dimension); bought plastic skulls from Michael's (very cheap); the paper skulls on hat and dress were party favors w/sticks (cut off the sticks and used string, didn't have enough so had to photocopy and create add'l paper skulls); the flared bottom of the dress had a 24" metal wreath frame (perfect size & made it very easy to attach the bottom of the dress w/the embellishments); and hot glued all embellishments. My granddaughter enjoyed wearing the costume very much!!