Lord Shen Costume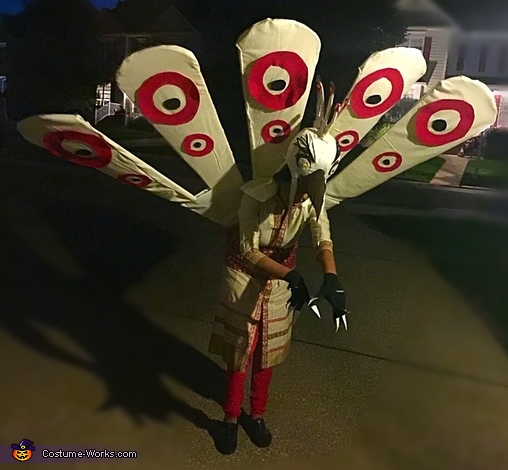 Lord Shen
More views:
(click to enlarge)
A word from Nirjara, the 'Lord Shen' costume creator:
I am dressed up as Lord Shen. A peacock is a thing of beauty and joy and infact is national bird of India. The movie , Kung Fu Panda 2 depicts a peacock as the main villain who can Kung Fu with his wings and be vicious and sinister at same time. This completely new take on a peacock always intrigued us and finally this year we decided to turn it into halloween costume to "trick" the treaters .

For wings We used bamboo sticks attached to a wooden frame to make the base framework. We cut flannel of various color and size to fit each wing. Hand sew and hot glued them to the frame work. We attached large elastic belt to base wood to wear it on the waist.

For head we took a halloween treat bucket and cut out two holes for eyes. Inserted LED tea light for eyes and cut some plastic bottles for bulging eyeball effect. The beak was made of cardboard. Whole head was covered with bits of flannel in needed colors. The head feathers were flannel with cardboard inside. Finally added elastic to wear it on head.

For hands we attached flannel nails to black jogger gloves.

For dress we already had an Indian outfit in Asian inspired colors and cut which fit the theme very well.