DIY Krampus Costume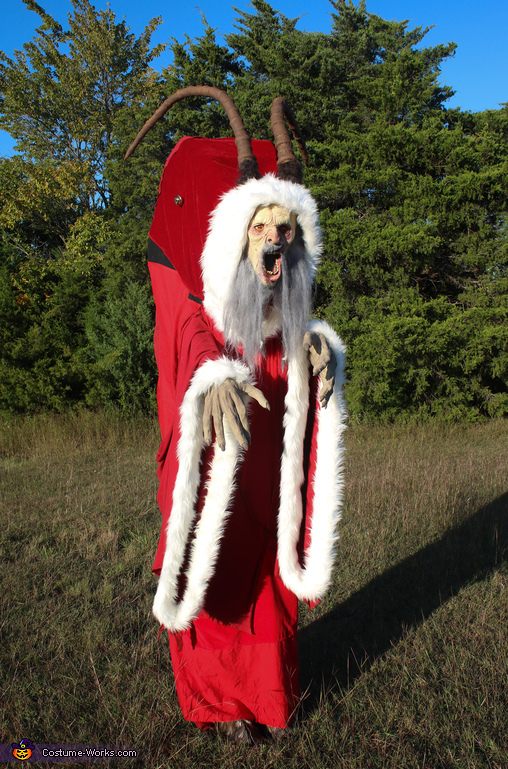 DIY Krampus Costume
More views:
(click to enlarge)
A word from Logan, the 'Krampus' costume creator:
After watching the new Krampus movie last year, I really wanted to recreate him as my costume for Halloween. I am 13 years old. My family and I worked on my costume over the course of several months, and I am really happy with how he turned out.
The hands and hooves were purchased as accessories. We also purchased the mask, but removed the original horns and added some paint and hair.
Our first step in building my costume was to form the pvc base. His size and shape made this more difficult than I expected, but after a few adjustments we were happy with the result . We padded his base with pool noodles and bubble wrap to look more realistic.
Next, we added a Styrofoam head to serve as a base for the mask. We painted and lacquered ping pong balls to create eyes that resembled Krampus' from the movie, and inserted them under the mask. The horns that originally came with the mask were much shorter than I wanted, so I removed them. To create the new horns, we used heat to bend two 1/2" pvc pieces to the shape I desired. I then wrapped the horns using masking tape (almost 20 rolls total) to their final size and shape. Finally, I painted them with acrylic paint using the color "melted chocolate ". For easy transport, the horns needed to be removable. We drilled holes through the bottom of the pvc so they could be bolted on and easily taken off.
The last, and most time consuming, part of the costume was his robe. We made it by using a sewing machine to stitch multiple patches of red material together in a 6' by 6' square. We situated this on his back and then stitched it onto his pvc base. I then hand stitched additional patches all around his robe until it reached the ground. Krampus' sleeves are unique and were pretty challenging for me. After experimenting some, I finally got the shape I wanted, and then stitched them onto the robe. We bought 2 yards of fur material and cut it into 6" thick strips to create the fur trim on his sleeves. The fur around his hood was created from a 10" thick strip.
Finally, we stuffed the latex hands with packing paper and attached them under the sleeves. We sewed bells and ribbons onto the robe as finishing touches.
I am so happy with the way everything turned out. Horns included, he is over 8' tall when I put it on. I wore my costume this last Saturday to a Fall Festival and got a really positive response. Lots of people wanted to take pictures and video, and some even thought I was hired to be there. Halloween has always been my favorite holiday, and Krampus is by far my favorite costume yet.