Kickin' it on Cloud City Costume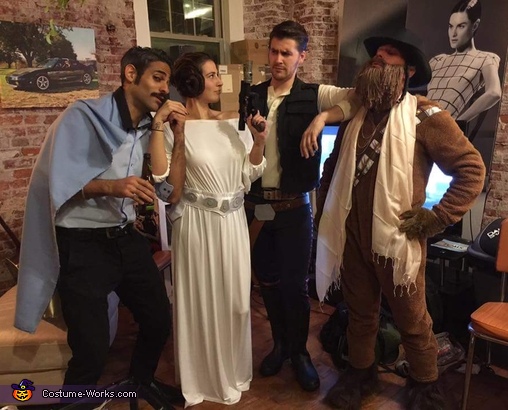 Welcome to Cloud City baby.
More views:
(click to enlarge)
A word from Brendon, the 'Kickin' it on Cloud City' costume creator:
Originally I (Brendon) wanted to do a Han/Leia couples costume with my fiancÚ Sarah, I then convinced my life long best friend Alex, knowing he'd perfect, to be Lando. Our good buddy Ethan decided to get in on the action putting his own spin on Chewy, with his "Jewbacca" costume. Together we hit a bunch of bars and destroyed the dance floor in style!

For Han I got $20 used fishing vest. I got some ultra tight hipster pants from H&M and had Sarah hand pant the red hashes on the legs. The belt was a $7 walmart belt, the gun holster I made from hacking apart a $10 walmart pleather tote bag with hand rivited studs and buttons. I hand painted the toy blaster to match. The boots are rain boots.

Leia was a white dress from amazon, her belt hand made by Sarah, made with white sheer fabric and hand painted silver belt studs made from crafting foam. She also made a hidden pocket for her cell phone.

Lando was simply a blue collared shirt with black slacks and black shoes. His cape was handmade made by Sarah.

Jewbacca is a Chewbacca onesie pajama, with a fake beard from etsy, and a costume fedora with fake payis curls, and a scarf in place of a tallit.