Khal Drogo & Khaleesi Costume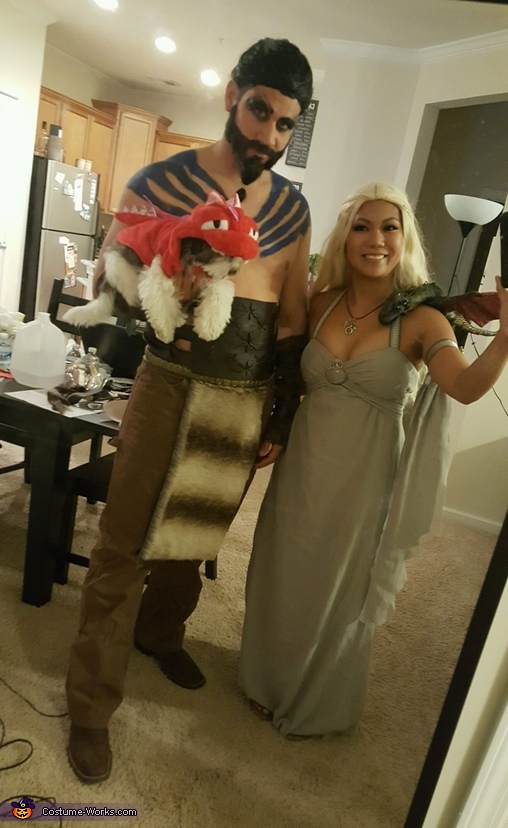 Khal Drogo & Khaleesi Costume
More views:
(click to enlarge)
A word from Katrina, the 'Khal Drogo & Khaleesi' costume creator:
We love Game of Thrones! They were a powerful couple and we think they're badass! I've also been reading the book "5 love languages" and thought it related to this couple in that even with a language barrier, they both were able to express love to each other in how the other perceives it; whether it be physical touch or gifts.

I got fabric and jewelry accessories from Hobby Lobby and Joann Fabric stores. I hand sewed everything as I don't own a sewing machine or know how to use one. The wigs I got from Amazon (a 60 inch long black wig and a blonde wavy one). For khaleesi's costume, I used an old bandeau bathing suit top to use as the base of the dress and started sewing gray solid guaze fabric onto it. I had to sew on a zipper to zip up the side of the dress and used Velcro for the ribbon neck straps to keep it up. For the "sleeves" I used ribbon, Velcro, and glued fabric to it. Dragon jewelry accessories from hobby lobby were hot glue gunned to a belt buckle that held the top together as well as onto the ribbon of the sleeves. I bought a stuffed dragon on Amazon and safety pinned it to my neck halter strap. For khal drogo's costume, I bought vinyl fabric, cut it into panels, and used a leather hole punch to make holes to thread leather rope through to create the starburst design as well as connecting the panels together. We also used a box cutter to cut an opening for straps that we sewed on to connect the bigger panels together. Drogo's sleeves were made with felt, holed punched into it to lace up with more leather rope, and cut strips of vinyl to wrap around for a rugged look. The faux chinchilla was fabric safety pinned to his pants for a loin cloth and a medallion belt from amazon. The pants are brown dickies and the cowboy boots we already had. I styled drogo's wig and used accessories from the beauty supply shop. Body paint was used for the shoulder markings and eye makeup that I applied with craft paint brushes and my fingers. He is completely clean shaven so we had to add facial hair. It was applied with spirit gum and layers of weave from a beauty supply store (I learned from a tutorial on youtube!). After we trimmed it up, we added more of the hair accessories to the beard to tie it. We also got a dragon costume for our puppy from Amazon :) I looked up lots of pictures on google and also watched the episodes with them in it to create the costumes as close to theirs as possible!