Kevin the Minion Costume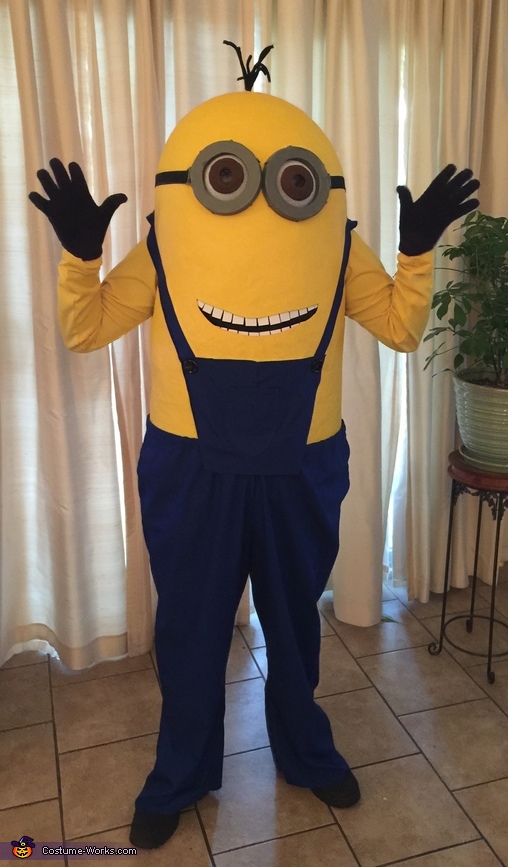 We Love Kevin the Minion!
More views:
(click to enlarge)
A word from Tracy, the 'Kevin the Minion' costume creator:
I am a kid at heart and Minions always make me feel happy. I thought I would love to be one for Halloween this year. Who doesn't love a Minion?
Making your own Minion is very cheap and easy.
First step is to find an inflatable exercise ball that resembled a minionís body. Other exercise balls work great for any other characters you can imagine making.
I made stucco like mixture of all-purpose flour, water and add a little bit of salt until it was mixed well. Get newspaper and dip each strip into flour paste and cover entire top of exercise ball. Make sure plug is not covered. After ball is covered on the area you want to make your costume out of, let dry completely at least overnight. After completely dry you can pull the plug and slowly let the air out of ball.
After I got a razor cutter and cut out a mouth, eye and arm holes. I then sanded any bumpy areas so my minion could feel smooth.
I bought some cheap yellow acrylic paint and covered minion. I let dry and painted a 2nd time too.
Next use to Styrofoam half balls and scoop out inside to form a bowl. Cut out hole on bottom. Look for sunglasses you donít use anymore or buy a pair at Dollar Tree.
Cut brown material to form a circle and cut out middle and hot glue over sunglasses.
More Styrofoam, white foam paper and gray paint is needed for the sunglasses. I looked around the house and found a black stretch cord on an old purse.
The teeth were from the same sheet of foam paper I used for the gray glasses.
I also found an old slip I never use and cut that up to place inside mouth and for the top of the banana purse I made as an extra bonus.
The minionís hair was fuzz wire sticks.
Yellow material for the banana purse is an old graduation gown I found at the thrift store for just .50 cents!
Clothes were also bought at the thrift store. Itís always good to have glue gun, paint brushes, extra material not needed or anything else to get creative and use instead. Make suspenders by cutting out pockets and trimming off from the bottom to form suspenders too. Find some black gloves which I'm sure you already have a pair.

Yellow paint- $2.50
Gray paint- $.88
Styrofoam eye balls- $.99
Styrofoam glasses- $.99
Brown material- $.23
White foam material- $.11
Blue pants- $1.50
Yellow shirt- $1.50
Yellow material from graduation gown- $.50
$9.20 for the price of having a costume I absolutely love!