Katy Perry California Gurls Costume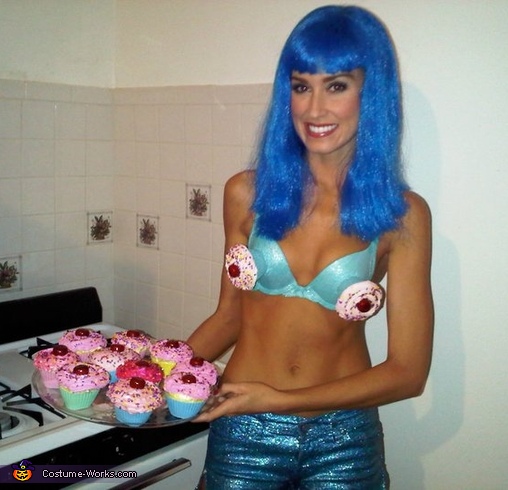 Katy Perry California Gurls Video Costume
More views:
(click to enlarge)
A word from Lindsey, the 'Katy Perry California Gurls Video' costume creator:
I am wearing the Katy Perry California Gurls Costume. I thought of the idea myself.
You will need the following:
a blue wig
at least 2 Silicone 2-Inch Reusable Baking Cups - they usually come in a pack of at least 6 - mine came with light pink, yellow, green, and blue.
Note: you will want to use the light blue and green ones. I would use them all though, and then choose the best looking two cupcakes at the end
expansion foam
spackle
metal cake decorating tips
icing bags
gorilla glue
dark pink/magenta nail polish
white nail polish
clear nail polish
2 fake cherries - I used fake cranberries - the decorative kind you would put in a bowl or vase
glass bugle beads (look like sprinkles)
various sizes of small paint brushes
puffy paint in teal (blue/green), white, light yellow, clear with silver sparkles, and blue sparkle. I had an aqua bra I did not wear anymore, although you could use a white, light blue, or light green bra as well. I also had a pair of short cut-off denim shorts.
Directions:
Spray expansion foam into baking cups - do not touch them for at least a day.
The bottom of the cups will expand as well, making them unable to stand upright - use an X-Acto knife of scissors to carefully cut off the bottoms so they are flat - you will cut the cups and the foam so that the foam is now exposed and is now flat and able to stand upright. 3A. Mix your teal, white, and clear sparkle puffy paint to a color that looks tealish/aqua - like katy's outfit from the video.
Paint the outside of the cupcake holders and let dry for several hours
Pour some of the nail polish into the spackle and mix until light pink - put into the icing bags, attach a star icing tip and squeeze onto the tops of expansion cupcakes
While still wet, sprinkle the beads like sprinkles and place a fake cherry in the middle of each cupcake - let dry overnight.
Cherries may not stay put - pull at them and if they come loose use gorilla glue to glue them in the indentation you made.
GENEROUSLY seal the entire icing/sprinkle/cherry area with clear nail polish so the beads do not fall off - they will if you do not use a clear polish over everything. You may want to sprinkle more beads over the wet clear polish.
If any of your expansion foam "cake" is showing, paint it CAREFULLY with the smallest brush you have using the light yellow puffy paint - try not to get on the spackle icing - then let dry.
Paint your bra using the exact same puffy paint color mixture you used on the outside of your baking cups - let dry.
Note: you do not want to see the fabric through the paint - that is ugly - so you may need to use two coats - let one dry and then do it again.
Use the blue sparkle paint to generously paint your denim short shorts - paint one side, let dry - flip and paint other side. Optional: paint the back butt pockets with silver sparkle paint.
Note: your shorts will be stiff, so once they are relatively dry, you may want to botton and zip them and stand them on end with the leg openings up in the air - so the air can get to all surface areas.
Use gorilla glue to glue your cupcakes to the bra - let dry over night.
Use left-over aqua/sparkle mixture to paint the edges where the cupcakes meet the bra so it all blends.
If you would like to make a purse you can with any leftover paint and fake cherries or beads - I used a cheap faux leather small white purse.
Wear any brightly colored heels, blue eye shadow, and hot pink nails and lips. False eye lashes or lots of mascara completes the look!