Katy Perry California Girls Costume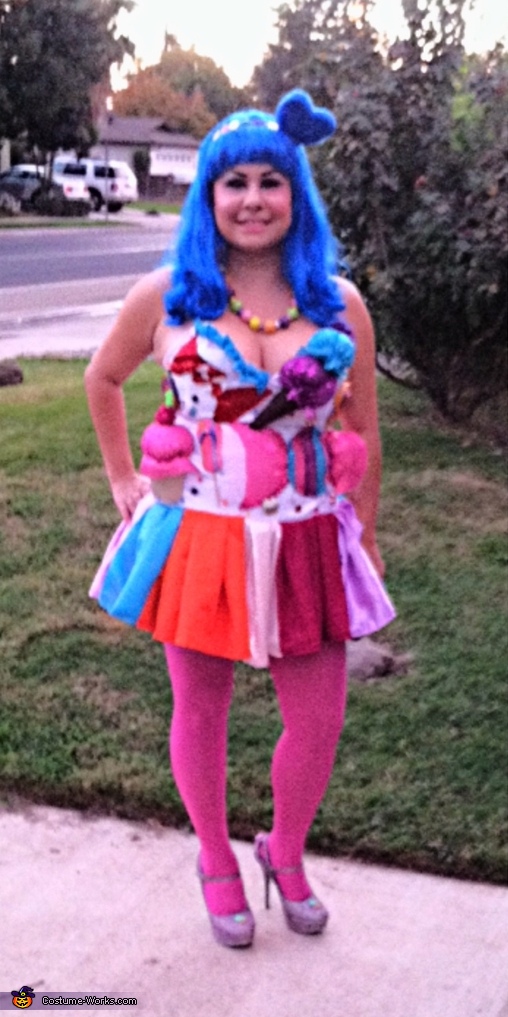 Katy Perry California Girls
A word from Melissa, the 'Katy Perry California Girls' costume creator:
This was my costume for a Rock of Ages costume party.
this is a completely handmade costume.
from scratch I started with white stretchy material to make a sweet heard strapless dress for the base of all the fun. I added an invisible zipper in the back. from sequenced material i made the ice cream scoops, cup cake, cherry and the candies. fill was used to "poof" it all up for the 3D effect. Tulle was used for the end of the candy. I used buttons in the shape of cupcakes, ice cream cone, teddy grahams, peppermints were glued on with Amazing Goop. I also use 3 large real lollipops which i sprayed with a clear coat. and glued on. Than i sporadically hand sewed colored clear beads from the dollar store to look like sprinkles and cover the plain white in the back.

shoes were an old pair that I modge podged than glittered. when the shoes were dried i added a cup cake button on toe and heel of the shoe.

necklace was made out of a real candy necklace and real bubble gum balls which were all strung together using a sewing needle and thread.

I has the pink stockings. Wig was bought from the Halloween store. I did add large plastic colored rhinestones on the plain headband.