Katy Perry Inspired Peppermint Dress Costume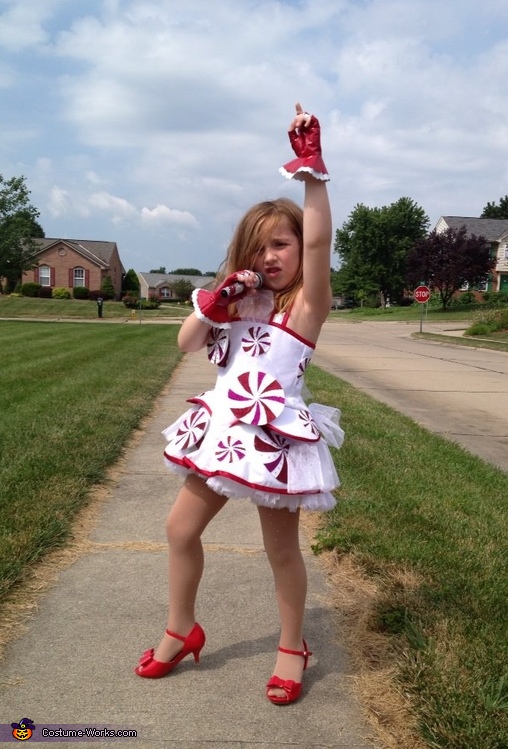 Katy Perry Inspired Peppermint Dress Costume
More views:
(click to enlarge)
A word from Teresa, the 'Katy Perry Inspired Peppermint Dress' costume creator:
My daughter loved Katy Perry and decided to do a replica costume. I saw a lot of replicas on the internet but none that made them spin. So took a few tries to get the right RPM little tinny motors but I found them.
I used White satin and covered it with temporary adhesive spray and iridescent glitter. Then covered it with clear plasti dip spray to prevent glitter shedding of the dress. I used purple and red glitter to make stripes on the straps and on the peppermint pieces. Used satin for the peppermints on the dress but put fusible interfacing on the back of the fabric before before cutting the circles out to prevent fraying. Same process glitter and plasti dip. Then added hot fix rhinestones to them as well. Glued them on the dress with E6000 and worked perfectly without making fabric brittle like some glues do.
For the spinning peppermints I used foam board and then glued the fabric circles to the board. and then glued them to the motors. Hid the wiring between the outer fabric layer and the liner layer. I used 1 battery pack with 3 double A's to power all three motors. The batteries were hidden under one of the hip fins. I used stiff organza for the crinoline and the pieces that look like wrapping for the peppermints.
I used red satin to make binding strips for the edges of the dress and back where the zipper was. I also used really really thick interfacing for inside of the hip fins to make them stick out.
I drafted my own pattern for this dress. I used stretch pleather (red and white) to make her gloves. Bought her tights with rhinestones on them and the red heels.
Video of her wearing the dress and them spinning: