Katniss, Girl on Fire from The Hunger Games Costume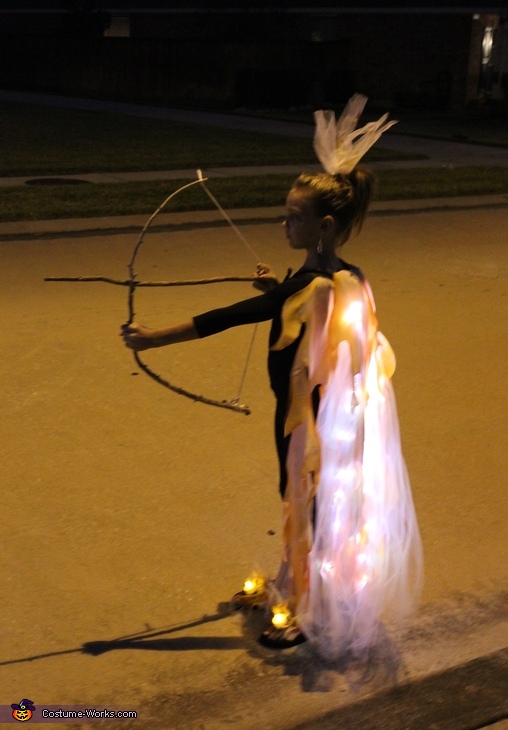 Katniss, Girl on Fire from The Hunger Games Costume
More views:
(click to enlarge)
A word from Leyna, the 'Katniss, Girl on Fire' costume creator:
KATNISS, GIRL ON FIRE (THE HUNGER GAMES)
The costume for my 9 year old daughter to go along with her little brothers' fire themed costumes was a surprising success—it turned out totally stunning, and for $0 additional dollars spent except for the inexpensive strings of battery operated lights. Because she was just beginning to read The Hunger Games when we started discussing Halloween ideas, she was very motivated to finish the book faster and really got excited about her Girl on Fire ensemble. We upcycled a little black leotard she's had since HER 2-year-old Halloween by adding some dance shorts/black leggings to the bottom. Painted tulle and battery-operated tea lights helped set her shoes and hair barrette "on fire." The Mockingjay pin design was traced onto cardstock, reinforced with posterboard, and then—with the dedication of a wonderful craft volunteer (my sweet and artistically talented aunt) made to look 3D with puffy paint and a few layers of gold paint. Dad lovingly helped craft the bow and arrow after a day of yard work and tree-trimming. The cape of flames really turned out so much cooler than we were expecting and totally made the costume. Using leftover flowy peach fabric from her Little Mermaid costume from several years ago, we traced, painted, and cut out 6 cape-length flames. Sandwiched between two layers of fabric flames were 3 strings of battery operated lights and tulle for volume and to diffuse the LED lights a bit. When she walked the cape flared out behind her and she truly looked like she had a cape of fire!