Jurassic World Dinosaurs Costume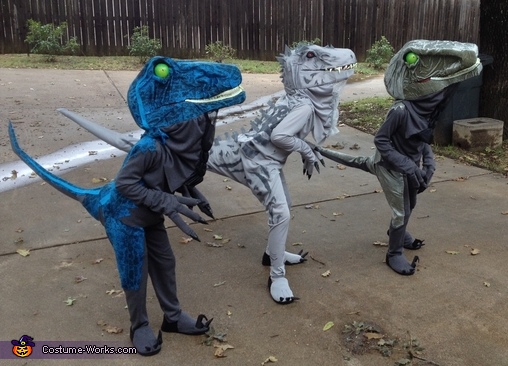 Awesome Dino's
More views:
(click to enlarge)
A word from Mary, the 'Jurassic World Dinosaurs' costume creator:
After watching the Jurassic World movie and playing the video game, my three boys came up with the idea and asked me to make it for them! Indominous Rex is worn by my 11 yr old, Keith. Blue the velociraptor is worn by my 8 yr old, Mason. And his twin brother, Micah is wearing Delta the velociraptor!

I shaped craft foam sheets and masking tape for the head shapes. I covered them with fabric which the boys chose for each of their costumes. The body and tails were made from craft plastic canvas sheets that I shaped and segmented in order for them to move when they walk! I painted plastic Christmas ornaments for their eyes. Sturdy foam and tape for their claws and toes. Foam makeup sponges for Indominous Rex's spikes! Paint, markers, and thread used for accents.


The boys were the hit of the Halloween night in the neighborhood trick or treating!!! Many kids and adults gave them lots of compliments! "Best ones they saw" , "Wow, your mom made this!" "Awesome!" My family and friends said I out-did myself again. One said I should patent these! Another high school friend said my Home Economics teacher would be so proud!