Juliet Capulet Costume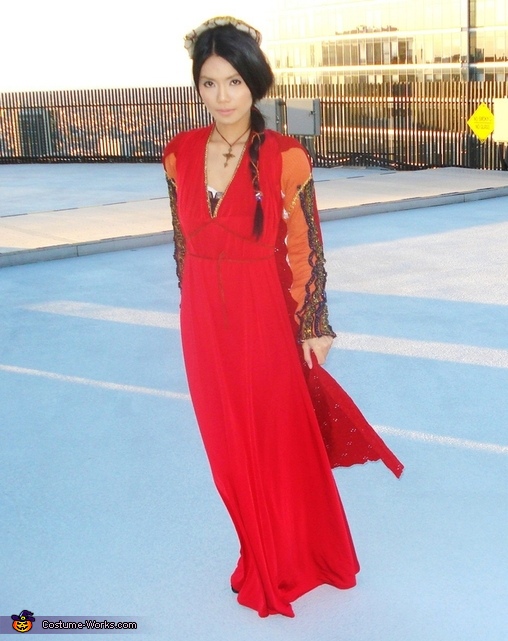 Juliet Capulet Costume
More views:
(click to enlarge)
A word from Carmela, the 'Juliet Capulet' costume creator:
I decided to make a Juliet Capulet costume for myself and the reason being is ever since I watched the 1968 Franco Zeffirelli version of the film Romeo and Juliet, I fell in love with all of the costumes worn by Juliet. I said to myself, "How I would love to be able to wear such intricately made garments!" The costume I made is basically a compilation of the numerous costumes worn by Juliet in the film.
I made this costume using a plain red v-neck maxi dress that collected dust in my closet, because it was a little too big on me. I cut the thick straps from the back side and connected each end, so that it would form into a loose halter dress with an open back. Along the back end of the newly made halter section, I also attached a deep red lace-like and somewhat thick fabric via sewing machine to create the cape portion of the costume. I then hand sewn on a thin, gold and black ribbon trim along the neck-line for embellishment, as well as a suede-like thin maroon ribbon at the center of the neck-line that would hang, until I wrap it around the dress to create more of an empire waistline.
I then made a long sleeved shirt to go underneath the maxi dress. I used a ribbed jersey material pumpkin orange colored fabric, as well as, a white creamy satin like fabric as the base of the long sleeve shirt. I wrapped the fabrics around my arms to get an idea how long I needed to make the sleeves. But overall, I pretty much just eyeballed the rest in terms of sizing. I then hand sewn two different types of beaded sequin trims all the way down to the sleeves and then added a gold metallic fabric trim at the top, near the shoulders for a more finished look. Implementing these beaded sequin trims truly elevated the costume. It made it look very intricate in design.
I also had a black sequins tank top that I wear for normal occasion, but I used it as part of the costume. I would wear it in-between the maxi dress and the long sleeved shirt as an added layer and to give the costume even more substance. I then added shoulder pads using some brown cotton fabric and stuffed it with a few cotton balls.
As for Juliet's cap, a friend of mine had given me her mother's old and unappealing bridal cap hoping I could make use of it for something, since she was trying to get rid of it. I took that bridal cap and wrapped it in the brown cotton fabric and embellished it with metallic brown-copper-like sequin trims, a gold thick trim in the front, as well as, a thin, gold and black ribbon trim at the back end of the Juliet's cap to have more of a finished look. As for my hair, I incorporated a very pretty and shiny red and gold string in my braids.
To top it all off, I made the necklace using a brown silky string, gold circular beads, as well as tiny miscellaneous beads. I used these materials to fashion it into a cross with the help of some glue.
I get so many compliments with this costume. People tell me how beautiful it is and that it looks very well made. I have even had a few people tell me that my costume stands out among the rest. And my one friend loved it so much that she tried it on and asked me to take pictures of her in it (she was the friend that gave me the bridal cap). I just really love this costume that I made. In fact, it is typically my default costume for Halloween, that is if I decided to dress up. I love how I can also re-purpose the costume by calling it a lady of the court/fair maiden/noblewoman/princess costume. In fact, for this Halloween I re-purposed it as such, because I made my two-year-old son a knight suit of armor from scratch and my costume and his complimented each other well. But, yes, I adore this Juliet Capulet costume so much that it really makes me want to say, "O Romeo, Romeo! Wherefore art thou Romeo?"