Judy Hopps Costume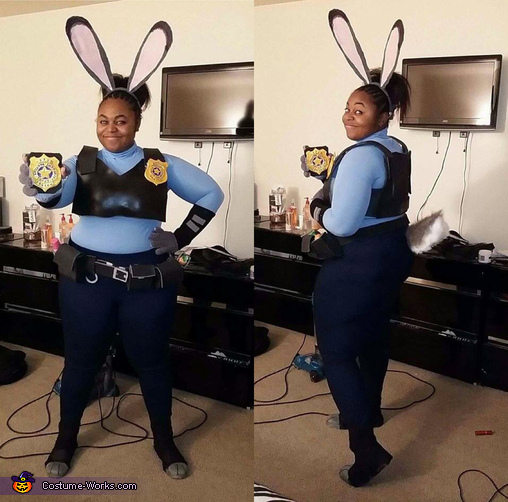 Officer Hopps Reporting for Duty!
More views:
(click to enlarge)
A word from Raven, the 'Judy Hopps' costume creator:
I became Judy Hopps from Disney's Zootopia! The items that were purchased and found in my closet include: Blue long sleeve shirt, jeggings, old pair of sneakers,clear paint sealant, faux fur, gloves and a paw slapping noise maker! I started with making her police vest. I used Anti Fatigue floor mat foam, a utility knife to cut out the shape, and a heat gun to create the curvature to my body. As always, my handy dandy hot glue gun was used as a seal. Next I made her utility belt. It too was made of Anti-Fatigue floor mat foam, and cut using a utility knife and hot glued together. I fond an old pair of black converse in my closet that I turned into bunny feet! I cut a small portion of faux fur and hot glued it to the tip of the shoe. I then used clear paint sealant to stop the fur from shedding. An unused toothbrush was used to then brush the fur down in the direction needed, then took a black sharpie to draw toe separation lines. The Bunny tail was made using wire and shaping it like a boat. I then covered it with faux fur sheets, sealed it with glue, and then cut the excess off. I stuffed the tail with cotton balls...Gives a new meaning to cotton tail huh? *wink* The bunny ears were made using the same idea except I used felt sheets to cover the wire and I attached the wire to a hair band. The store bough grey gloves I snipped holes so that my finger tips could be used to grab things with no problem. Then finally the props! I used Crayola Modeling clay I had sitting around and by hand sculpted 2 zootopia police badges from looking back and forth from reference photos. Once dried I painted them and glossed them to protect the paint. I used velcro on the back of one to attach to my vest armor and the other as a hand badge to flash. The slapping paw noise maker I found a party store, I hot glued the 3 paws together, and painted it to look like a Pawcicle as seen from the movie. The Fox away spray, I painted the cap of a mini shaving cream can and then printed out the label and glued it on. This costume took me about 3 weeks to complete and I loved every bit of it! And I hope you all do to!!!