The Joker Costume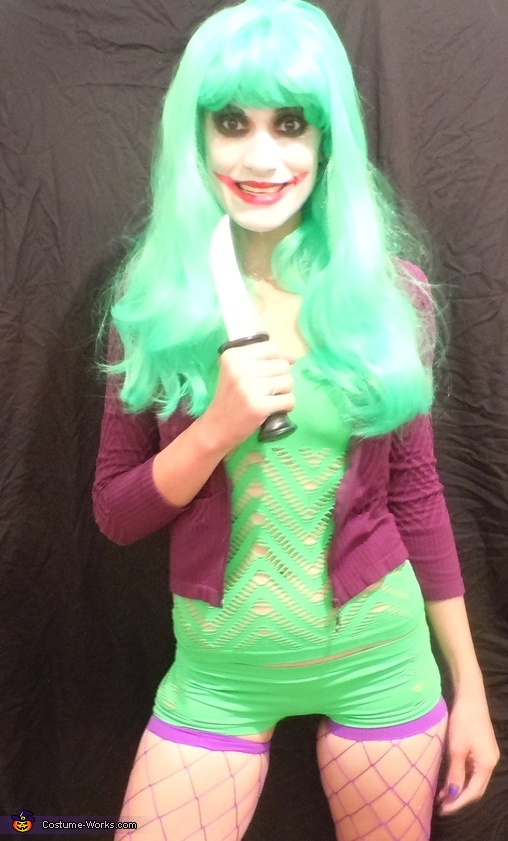 Why so serious?
More views:
(click to enlarge)
A word from Jane, the 'Joker' costume creator:
"Don't talk like one of them. You're not! Even if you'd like to be. To them, you're just a freak, like me! They need you right now, but when they don't, they'll cast you out, like a leper! You see, their morals, their code, it's a bad joke. Dropped at the first sign of trouble. They're only as good as the world allows them to be. I'll show you. When the chips are down, these... these civilized people, they'll eat each other. See, I'm not a monster. I'm just ahead of the curve." ~The Joker in The Dark Knight
The Joker is a very philosophically complex villain worth one's analysis and study. He is especially fascinating in our pseudopsychoanalytical culture because he is undiagnosable-- that makes him the epitome of enigma. He is unrelatable to our culture's petty desire for earthly treasure. His actions and philosophy revolve around the ideas of chaos and control, and often exhibits a fascination for anarchy.
The Joker's bloodthirsty procedures may strike the typical individual as disturbing, but the message behind The Joker's relentlessness is simple: we are not in control in a society that has major control issues. The more we try to control things, the less in control we really are. Yet in spite of that, everything seems to revolve around seeking to micromanage the behaviors of individuals. Governments, religions, corporations, they never have enough control, and their existence is based on seeking more at the expense of individuality. It seems as if every social institution wants to expand its domain of control into someone else's world; the collectivist society seizes control of the individual's realm. Individuals, too, think they are in control of their own lives. In a sense it is true, but only to an extent.
"Do I really look like a guy with a plan? You know, I just... do things. The mob has plans, the cops have plans, Gordon's got plans. You know, they're schemers. Schemers trying to control their little worlds. I'm not a schemer. I try to show the schemers how pathetic their attempts to control things really are. It's the schemers that put you where you are. You were a schemer, you had plans, and look where that got you. I just did what I do best. I took your little plan and I turned it on itself."
~~~~~~~~~~~~~~~~~~~~~~~~~~~~~~~~~~~~~~~~~~~~~~
I am a bargain queen, so naturally I went out of my way to assemble this costume as cheaply as possible. The most expensive piece was the wig, which I purchased for $20 at The Halloween Club in Montebello, CA. I found the green outfit in the lingerie section of Fallas Paredes, a discount store, for only $5.99. I got the stockings for $5 at a cheap lingerie store, and the purple zip-up for $10 at a small boutique in East Los Angeles. The makeup cost $5,99 at Rite Aid.