Jenny, the Last Penny Costume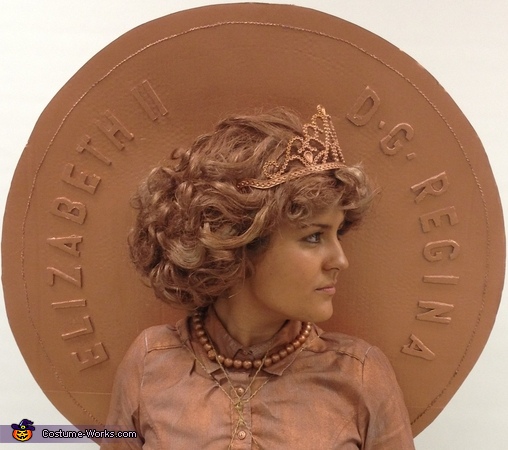 Jenny, the last penny
More views:
(click to enlarge)
A word from Jenny, the 'Jenny, the Last Penny' costume creator:
This is my costume for 2013. I don't remember what made me think of it, but after researching it online, I was sold.
I figured somebody had to pay homage to the Canadian penny!
Making the costume was not too difficult:

1. I cut a giant circle out from a large piece of cardboard.

2. Letters were made using foam board. The border was made with yarn. Real leaves were used for the leaf side of the coin. Everything was glued down with craft glue.

3. I painted both sides of the board with a bronze spray paint.

4. I spray-painted an old shirt, pearls, and crown. I used brown face paint and a bronzer for my face.

5. I used my yard to attach the penny to my back.