Jellyfish Princess Costume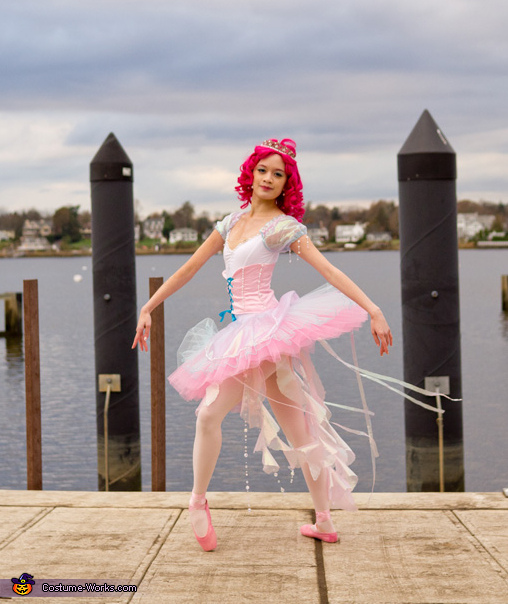 Jellyfish Princess
More views:
(click to enlarge)
A word from Karen, the 'Jellyfish Princess' costume creator:
This is my Jellyfish princess Halloween costume, made and modeled by me!

I first got the idea of a jellyfish while watching the Pixar Play Parade in Disneyland. From there, I thought, "Hey, it'd be really cool if I could make a jellyfish tutu!" and the idea just kept going from there.

I had a ton of fun making this--I've been working on it since before school started!

I made the tutu- hand-pleated everything, and sewed it onto a panty and basque. There's a top row of roll hemmed teal tulle, made to look like water, and an iridescent pink plate on top made to look like the top or bell of a jellyfish. I sewed beads, or "bubbles," to the edges, because I've always envisioned a clear, pinkish jellyfish looking beautiful with sparkling bubbles all over. I took more iridescent lame' and burned the edges instead of hemming it to make tentacles, and added some more "bubbles" to it, this time long strings of beads to sparkle and catch the light like real bubbles, and a few small clear ornaments to also serve as bigger "bubbles."

Instead of making a bodice, I altered a white leotard I bought last year. I added puffed jellyfish-like sleeves, and strung some beads to look like subtle tentacles, and put more "bubbles" on the neckline. I made a regular little corset to put over the tutu basque and leotard, and put some more "bubbles" on that as well.



I wore a pink wig I curled, to keep the elegant but still playful look I associate with jellyfish. On top, I used an old tiara I've had (sparkling like bubbles do!) and threaded some pearls through to tie it to the rest of the costume, since I have some pearls mixed in with my clear "bubbles."



And last but not least, my feet! I dyed a pair of my pointe shoes pink, to match the rest of the costume! Please note, I take ballet and pointe classes every week, and going en pointe is very dangerous if not properly trained.



I've had a blast making this, so I hope you enjoy it too!