Homemade Jellyfish Costume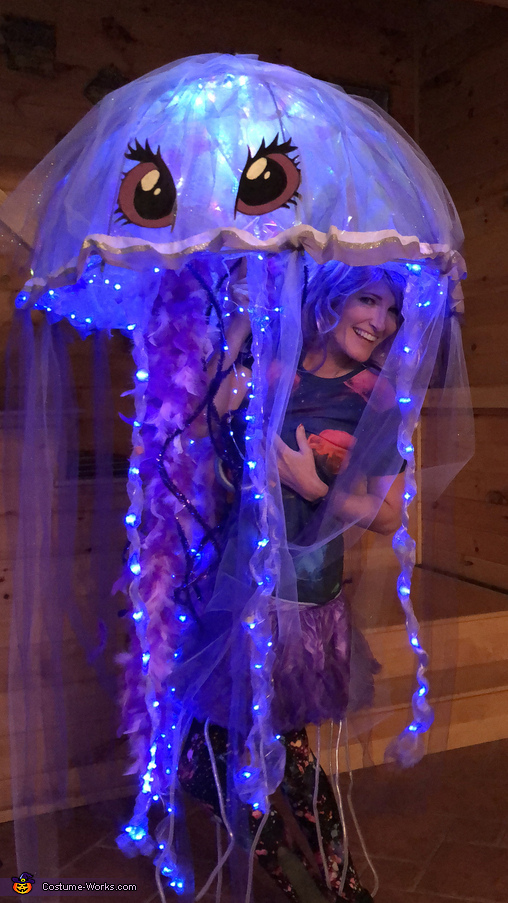 Are you Jelly?
More views:
(click to enlarge)
A word from Natasha, the 'Jellyfish' costume creator:
I work at an elementary school and we have Halloween parties every year. Our fourth grade teachers decided to dress as jellyfish. I was excited because I love jellyfish! I started the project by purchasing a clear dome shaped umbrella, one roll of bubble wrap, 3-4 rolls of tulle, one roll of wide wired ribbon, packing tape, hot glue sticks, eight pack of fairy lights, colored foam paper, Christmas string, boas, and bath sponges. First, I lined the inner umbrella with bubble wrap and secured it with packing tape. Then, I glued layers of tulle to the outer umbrella and glued the ribbon around the edge. I also tied strands of tulle to the tips of the umbrella. Next, I arranged the fairy lights inside the umbrella and secured them with packing tape. I wrapped some of the lights around the unraveled body sponge. Once unraveled, the body sponges can just be tied in knots at the ribs of the umbrella.The lighting placement I chose left the battery packs near the pole for easy access later. I taped the batteries to the pole. Then, I tied the Christmas string and boas to the ribs of the umbrella and pinned the Christmas strings to my tutu. Lastly, I drew the eyes on the foam paper, cut it out & hot glued them to the umbrella. The whole project was so much fun! I ended up making 3 for my colleagues.