Jack and Wendy Torrance Costume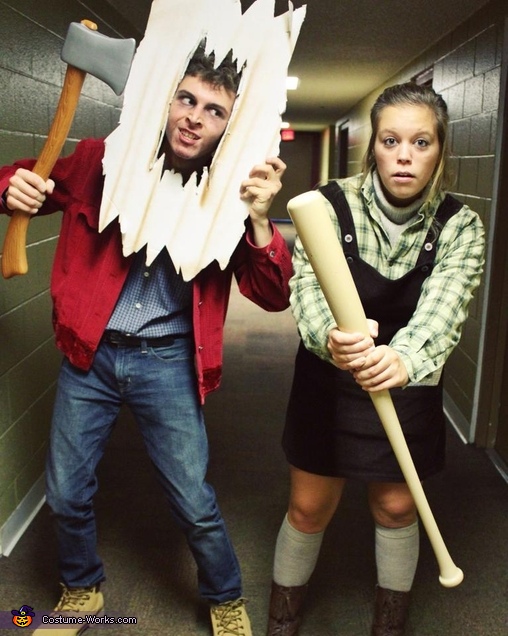 Here's Johnny!
More views:
(click to enlarge)
A word from Casey, the 'Jack and Wendy Torrance' costume creator:
Our costume is from one of best horror movies of all time, The Shining. My boyfriend and I love to dress up as horror movie characters for Halloween. The Shining's Wendy and Jack has always been on the top of our list, and when we were able to find our entire costume for under 20$ at our local thrift store, we knew this was what we wanted to show off at Halloween! My boyfriend John is Jack Torrance, wearing a piece of the door from the incredible "here's Johnny" scene and I, Casey, am holding a bat and wearing the outfit that Wendy is wearing when trying to get away from Jack after he had went crazy on her for wanting to bring their child to the hospital. The piece of "wall" that John has head through is just some hard poster board we got from Michaels. The bat that I am holding was originally black, but considering the bat is a brown color in the film we spray painted it and it came out great! John and I are huge horror freaks and we absolutely love dressing up for Halloween!