Invisible Man Costume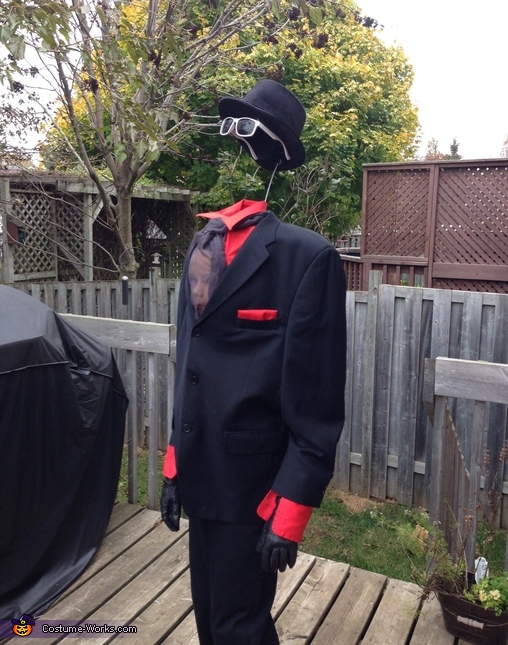 Invisible Man Costume
More views:
(click to enlarge)
A word from Erin, the 'Invisible Man' costume creator:
My 11yrd son came up with the idea for being invisible. A trip to the thrift store for the over sized sports coat $8.00 and red dress shirt $4.00 and dollar store for the grey scarf, knee pads (for working in garden), suspenders, top hat and sunglasses total of $8.00. Shopping at home for cardboard box,hot glue, wire coat hanger and old winter hat $FREE. i started off cutting cardboard in half and gluing knee pads on ends off cardboard to make structure for his shoulders. Slit holes in back of cardboard to attach suspenders and hot glue winter hat to the inside of cardboard box (my son wore the hat and suspenders to keep the cardboard shoulders sitting on top of his head). I then wrapped the dress shirt and coat over the cardboard shoulders. I buttoned up the shirt leaving the top two buttons under the collar undone and glued shirt open for his face to poke out off. Then tied the grey scarf around collar and glued it over the shirt opening to cover his face ( scarf was very thin so he could see though it). I cut both arms off dress shirt and cut holes underneath the armpits on the sleeves and body of sports coat to have his arms come through. Having extra fabric from
Cutoff sleeves, I glued the sleeve cuffs inside of coat to make the arms appear longers. For the top hat: took wire coat hanger, bent it to fit inside the top hat and hot glued it to stay then glued the sunglasses to the hat. Then fed the wire down into the cardboard shoulders and hot glued it to stand up straight. Painted his face black to hide his face at night time, wore a black pair of gloves and a pair of dress pants. He had so much fun Halloween night, many pics were taken from parents and some frightened little ones asking where his head was. Throughout the night many people wanting to
Look and talk to his invisible face. Ultimately one of my favourite costumes yet!!! Total cost $20.00 time spent putting it together approx 15 hrs, seeing everyone's reactions, priceless!!!