Inside Out Family Costume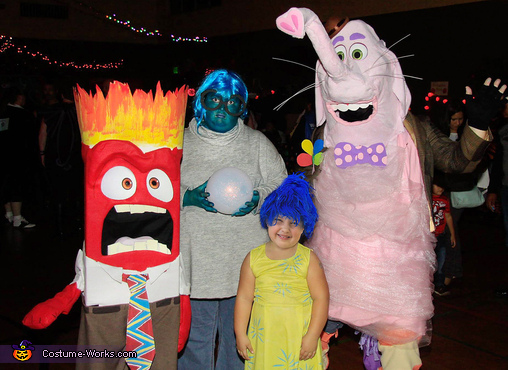 Inside Out Family photo
More views:
(click to enlarge)
A word from Chris, the 'Inside Out Family' costume creator:
My kids loved the Disney/Pixar Inside Out movie and I let them choose what we will be each year for Halloween. The majority of these costume are hand made with the exception of Joy's. (It was cheaper to buy than it was to make)
Bing Bong
Bing bong was the most difficult to create. I used foam and a pool noodle to shape the head with a bendable aluminum rod to support the nose.
The coat was from a thrift store, cut down and added the pattern.
I used zip ties for the whiskers.
The body was a pink pull over dress, made from fabric with tutu material attached to give the cotton candy look.
Feet and legs were foam and fabric.

Sadness
We made the class from black poster board, cut down a blue wig and covered her with blue food coloring.
The core memory ball was an over-sized Christmas ornament that I cut the neck off of.

Anger
My daughter is tall an thin, but she wanted to be Anger who is short, stocky and built like a brick. This was a challenge. I used a cardboard box as the base and insulation foam to create the features like eyebrows and teeth.
The clothes were all hand made from a bed sheet and pieces of fabric. Painted poster board was used for the flames and tie.

Bing Bong rocket
I also created Bing Bong's rocket to pull my 4-year-old, dressed as Joy around in.
Using cardboard, duct tape and a couple of brooms just like in the movie. The rocket is the last photo.