Inside Out Disgust Costume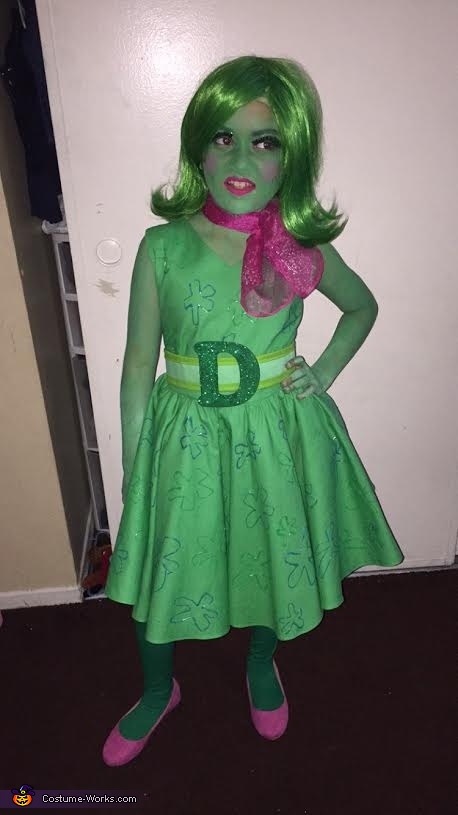 Inside Out Disgust Costume
More views:
(click to enlarge)
A word from Mayra, the 'Disgust Inside Out' costume creator:
Insdie Out-Disgust
My daughter decided she waned to be Disgust from the movie In Side Out this year. After watching the movie she became obsessed with the character.
I began to do research online as to where I can purchased the dress but either there where to expensive or I didn't find the right dress. I decided to make the dress myself. My aunt is a seamstress so I bough the green material and she made the dress the same style as the one Disgust wears in the movie.
I then bough glow in the dark fabric paint from Joann's to draw the flower design on the dress. I hand painted the design on the entire dress. It was a 3 day process as I had to wait for the paint to dry and then go around the entire dress. The dress does glow in the dark but I haven't been able to take a picture the actually shows it.
The wig I ordered it from Ali Express it was only $12 and good quality. I also made the belt I used two different color fabric. The letter D I bough at Joann's. It was actually a plain wooden letter I painted it green and then splashed green glitter all over it to make it nice and sparkly. The glitter I bough in Downtown LA for $1. The shoes I bough for $7 there are hot pink flats I found them in downtown LA as well. The leggings I found them at party city for $5.
For the make up I got green and white face paint from target for $1 I mixed both color together to try and get a lighter shade of green. I found the green eyelashes at Party city for about $4.I applied pink eye shadow before applying the lashes. I used pink blush for her cheeks and hot pink lipstick for her lips.