Indominus Rex and Velociraptor Costume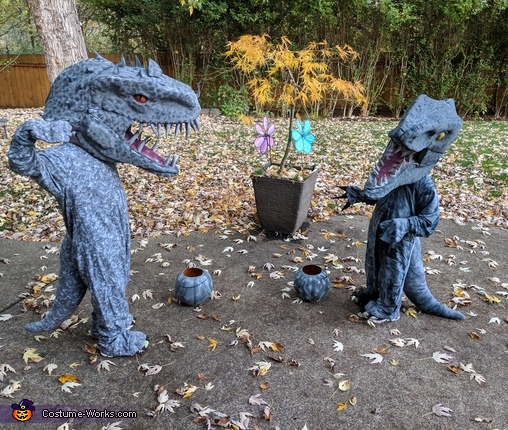 Indominus Rex and Velociraptor
More views:
(click to enlarge)
A word from Vanessa, the 'Indominus Rex and Velociraptor' costume creator:
My boys love dinosaurs and have recently started watching the Jurassic World movies. My oldest asked if he could be an Indominus Rex for Halloween and his little brother wanted to be the velociraptor, Blue. I didnít see any costumes that I liked, so I decided to make them.
I made the heads out of Ĺ inch craft foam, and the eyes out of a half of a plastic Christmas ornament. I sculpted the foam out in layers and used a soldering iron to carve out the scale details. I then stretched and glued fabric over each piece and spray glued the pieces together. I made the jaws open enough that they could see through the mouth and they wore the heads like a helmet. Once they were all put together I airbrushed the scales and eye detail in. Then I sewed the bodysuits with fabric that the boys thought looked like dinosaurs. The claws are made of felt. Each costume cost around $75.00, and took about 15-20 hours to complete. They are sturdy enough that my 3 and 5 year olds will be able to wear them for a long time. When we were trick or treating many houses said it was the best costume of the night!