Incredible Dog & her Family Costume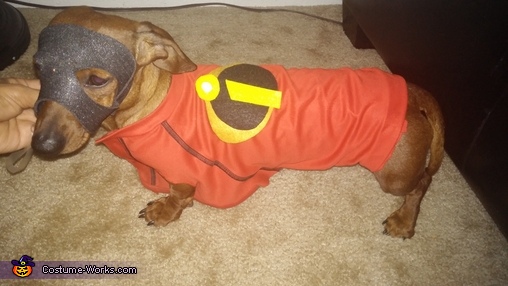 trying to take a good picture of her!
More views:
(click to enlarge)
A word from Amanda, the 'Incredible Dog & her Family' costume creator:
Our favorite family movie is The Incredibles! We fit the characters and Stretch is a part of our family. She was a good sport and didn't mind wearing her costume.
How I made her costume,
Well I used my husband's favorite work out shirt. He was not to happy about it. But I wanted Stretch to match our costumes. So I cut up his shirt and messed up a few times luckily his shirt was big. I went shopping at a frabic store and bought felt material to make the symbol for super hero Incredible. Her eye mask was hard to keep on her made of a very thin foam material. In the end my husband was happy with how cute her costume came out so it was worth it to lose his favorite work out shirt.
I had so much fun making our puppy Stretch, my daughter's & my costume I Can't believe how good we all matched! It was fun putting all the pieces together for our costumes! Hope you enjoy the pictures!