Ice Climbers Costume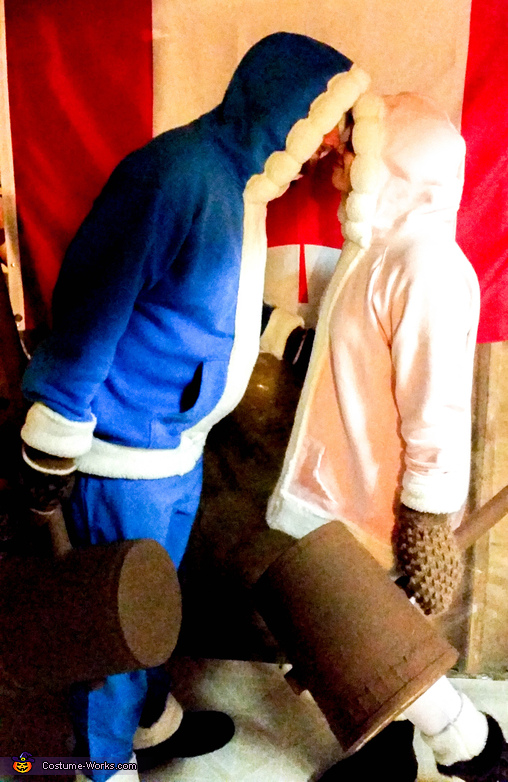 Eskimo kisses
More views:
(click to enlarge)
A word from Angela, the 'Ice Climbers' costume creator:
For our second Halloween together, my boyfriend and I decided to make a couples costumes for our 'Super Smash Bros' themed Halloween party. We wanted something not commonly done and decided the Ice Climbers (Popo & Nana) would be the perfect costume for the rainy and cold Vancouver weather - cute, warm and iconic for our generation!

2 hoodies, a white fur blanket, and blue pants were bought from a local thrift store. We acquired 2 large ice cream buckets, gift wrapping tubes, some brown acrylic paint, and we were set.

The hammers are an iconic part of the ice climbers, so we took extra care making them look awesome. Craft knives were used to carve out holes through the ice cream bucket, and the tubes fit through perfectly. After some duct tape on the ends, we paper-machéd a light layer to help the paint stay on better. Sandpaper made everything smooth before painting. Brown paint with heavy bristle brushes left marks that resembled wood, and voila - battle worthy hammers!

The hoodies were measured, then fur was cut from the blanket, labelled accordingly, and sewn on. Chest piece, waist, pant cuffs, wrist cuffs, and a circular hood piece. Finally, we put stuffing in the hood, and hand cinched it once the stuffing was inside to create the perfect white puffs the Nintendo characters had.

While wearing our costumes, we ran into Mario, Luigi, Link, Pikachu, and Ness! Although not all of them took photos with us, we received compliments and suggestions from many that we should enter our couples costumes in contests for others to see. We are so grateful that our costume brought so many smiles to teens and young adults who remember Super Smash Bro's and hope others like it too!