I Dream of Weenies Dog Costume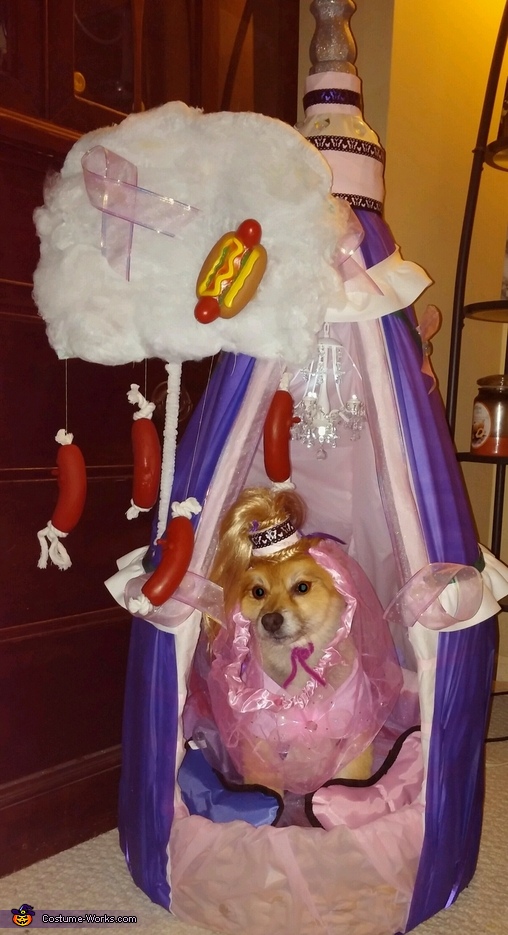 I Dream of Weenies
More views:
(click to enlarge)
A word from Harmony, the 'I Dream of Weenies' costume creator:
I dress Gizmo up every year for Halloween and am always keeping an eye out for a little inspiration. This year there was a photo circling around Facebook with a dachshund puppy with the caption of "I Dream of Weenies." I thought to myself, how could I use an idea such as this when I have a Pomeranian and not a "wiener" dog? I decided that most dogs love hot dogs and Gizmo is no exception and since he was diagnosed with Diabetes the end of July hasn't had anything other than his special diet dog food so if I could see his dreams I would imagine he would dream of weenies. I knew he needed a lamp and I had always loved the show so wanted to make him look like the Genie in "I Dream of Genie" but incorporate his dream of weenies in to the costume. And so, I Dream of Weenies costume was born!
I was a little unsure at first how to go about making to costume, the clothing was the easy part but the genie lamp I knew was going to be tricky. I had a fall fair to attend and saw an apple basket and thought that would work perfectly for the base of the lamp! I don't have any power tools so knew I was going to need to be creative. I went and found a wicker basket that would be strong enough to hold Gizmo and big enough for him to sit and lay down in. I then was off to the hardware store. There I purchased dowels that I could use to shape the lamp and decided that I could also use PVC piping to bring the dowels together and hold them tightly shaping the lamp. I tied the dowels to the wicker basket, started at the bottom and placed 5 ties and 8 dowels around the basket to make sure it was strong enough. Once all in place I added the PVC piping and roped it to the basket to prevent it from moving and ! the shape of the lamp was born. I used fabric to cover the wood, both on the inside and outside of the lamp, added a chandelier and pillows and he had is very own genie lamp.
For his clothes, I used a pair of pink socks for his top. I sowed the socks together and sowed on ribbons to allow the top to be tied on. Once in place I added a flower for cuteness. His skit was all frilly fabric sown together, didn't take much effort. His hat, that was the real creative part. I knew I needed something small yet sturdy but not heaving at all. I used a dixie cup. Cut the cup down as we didn't need a huge hat. Covered the hat in ribbon to cover up the design of the dixie cup. Glued on some left of lacy fabric for the shawl to go around his face. I was able to find some fake hair, braided it for the base of the hat and attached the rest to mimic the character from I Dream of Genie.