Human Apple iPod Touch Costume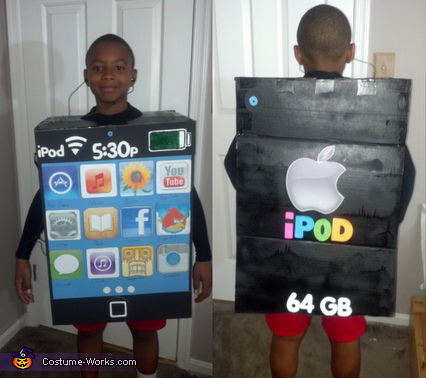 Human Apple iPod Touch
More views:
(click to enlarge)
A word from Keonte, the 'Human Apple iPod Touch' costume creator:
Since the day my son received his Apple iPod Touch as a birthday present, the two have been inseparable. When he came to me and said he wanted to be one for Halloween, I was a little skeptical. That was until we started working on it.

First, we used a cardboard box. It's up to you to decide how big you want it. Our box covered my son from his shoulder to roughly his knees. You will need to cut out a hole at the top of the box for your head to go through and two additional holes for your arms to go through. Don't forget to leave the bottom completely opened for your legs. We made the back of the box a flap piece to allow for easier access in and out. We also taped styrofoam pieces in the shoulder area for comfort.

Once you have the foundation for your project, it's time to decorate. We chose black as the color of our iPod. You can use whatever you want. We used spray paint to cover the box completely. You should give it a day to let it dry.

While the box is drying, it's time to use the computer. We printed our favorite app icons from the computer. Then, we cut them out into equal sized squares and placed them on cardboard for added structure. Using a piece of blue poster board for the background, we arranged the icons on the poster board.

We then added all the details of the iPod onto the poster board. This is where you can get creative. We even printed the Apple icon off of the computer to give it the official stamp of approval.

Once the cardboard box is dry, you can glue the poster board to the front of the box. Let it dry and then you're all set.

To add even more fun, we included a pouch on the inside of the box to allow an actual iPod to go. This way, you can play your favorite tunes. It makes it seem like your iPod is actually playing music. We used headphones as a prop too.

This is how we created the Human Apple iPod Touch.