Hulk Hogan Costume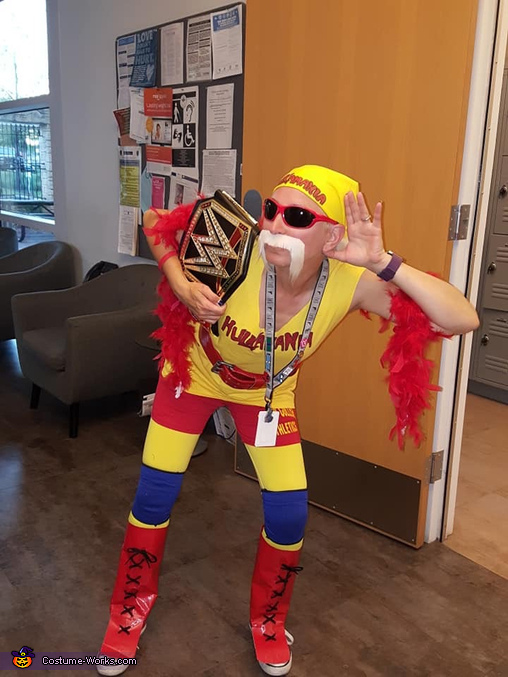 Hulk Hogan in the house
More views:
(click to enlarge)
A word from Lenore, the 'Hulk Hogan' costume creator:
My coworker and I decided to put a spin on 'sports day' and went as Hulk Hogan and Macho Man Randy Savage. I found the yellow leggings on clearance at a local store and the yellow t shirt was from arts and crafts store (I cut off the sleeves and opened the collar then used a red sharpie to draw the 'Hulkamania' on it. The dollar store had the kneepads and I found a friend with an old weight belt that he donated to the cause and I covered it with red duck tape. The headband is just a yellow piece of scrap fabric I had laying around and the same sharpie marker treatment. For the hair and mustache I bought two pre-cut pieces of craft fur. I sewed them back to back for hair so it would look good from the back or the front, but cut off a small section from the 'inner' piece that would be tucked up in my bandana and out of site and used that to cut out a mustache (traced out and 'fitted' on a piece of paper first) and used spirit gum to adhere it.

The championship belt was purchased and my friend found my sunglasses online. I used duck tape, Velcro and shoe laces to make the fake boot tops. I had the red boa in my stash of stuff so that was 'free' and the red shorts have been in my closet.

It was epic, I loved it, my coworkers laughed, I hated having to take it off at the end of my shift. oh yeah...brotha!!!