Hot Air Balloon Costume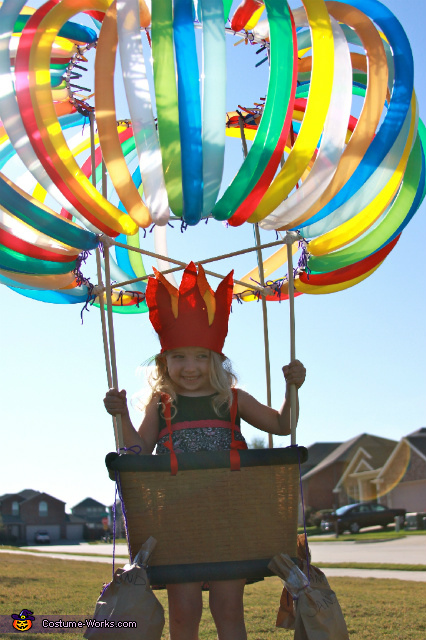 Up, Up and Away!
A word from Lyndsey, the 'Hot Air Balloon' costume creator:
My almost-4 year old is wearing her hot air balloon costume. We came up with the idea while surfing Pinterest. I saw a cute one and then extrapolated from that. We used a basket that we bought for $8 at Lowe's and cut the bottom out. We secured the weaving with tape and affixed pipe insulation to the edges. We hot glued dowel rods to the corners and used another dowel, cut in half, to create a support higher up. Then, I used a thin tube and wire hanger to create a loop that I affixed long balloons to. I didn't fully inflate the balloons because I needed a tip at the end to tie the balloon to the top ring, which was hot glued to the dowels. We used ribbon to create the straps and made sand bags out of paper bags stuffed with paper towels. Her treat bag coordinated, though not pictured. I used tan broadcloth and red ribbon and just made a simple sandbag treat bag.